"Athletes of the Week" (AOW) are selected based on athletic performance and sportsmanship. Positive sporting behaviour is valued at KES and integral to our Athletic Philosophy and School Mission Statement emphasizing gentleness and learning and dignity and respect.
For the Week of May 6th

- 12th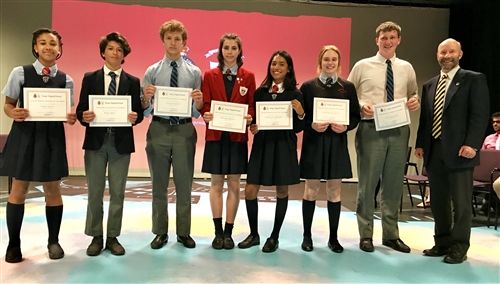 Junior Boy - Pablo Musi
has been a kangaroo in the jumping events in his first year of track and field. Pablo placed among the top 5 of intermediate boys in the technically difficult triple jump and has, therefore, qualified to represent our School at the Regional championships. Well done, Pablo!
Junior Girl
- As the only Junior girl running for KES,
Gabby Shaw
had a lot of pressure going into the track and field District championships, and she did not disappoint! She qualified among the top 8 out of 37 runners in the 200 meter dash. Great job, Gabby!
Senior Girl - Aria MacDonald
entered the District championships in the three longest events: the 800m run, the 1500m run and the 3000m run. In her 800m race she placed 1
st
, in her 1500m race she placed 1
st
and in her 3000m race she placed 1
st
as well. Perfect 3 for 3. Keep up the great performances, Aria.
Senior Boy - Luis Espinosa
tackled the most difficult running races, and showed his tremendous range and toughness as a runner at the recent District championships. Luis placed 4
th
in the 1500m run, 3
rd
in the 3000m run, 2
nd
in the 400m dash and took home the GOLD in a first-place finish in the 800m race. Well done, Luis, and best of luck in the championships.
For the Week of May 13th

– 19th

Junior Boy
- It is hard to believe that
Alvaro Canges Vigne
is only in Grade 9 when we watch him play on the wing for the Senior Boys' Rugby team. His running, tackling, and pursuit when chasing kicks are aggressive and skillful, and his performance against Horton last week was no exception. He was one of the more important members of the team when we defeated our arch-rival, and we're glad to have him. Felicidades, Alvaro!
Junior Girl - Carolina Herrera
has shown steady improvement this season and has been thrust into the starting line-up in this critical point of the season, and she has done very well. In both of our games this week, Caro showed off not only her speed and athleticism, but also her ability to make important tackles. In our second game of the week against our cross-town rivals from Avon View, Caro was selected by our captain to be our Player of the Game for her excellent efforts in the match. We will continue to depend on Caro's strong play as we move closer to earning the right to play in the Provincial championships.
Senior Girl - Camryn Kleynhans:
In our two league games this week, Camryn continued her dominant play. First against Horton, she played well with ball in hand and forced many turnovers on defense, including one which led to an eventual score. Later in the week against Avon View, Camryn was an absolute defensive machine. She tackled and tackled and tackled and then she tackled some more in what was one of her gutsiest performances as a member of our team. Also of note is the fact that Camryn was also selected to represent U18 Canada East at an upcoming match versus USA East this summer. Great work, Camryn!
Senior Boy - David McCurdy
received "Hammer of the Match" when our Boys' Rugby team hosted Horton on Tuesday, May 14. His handling skills have improved to the point where he can be counted upon to not only receive good ball from the scrum half, but also to take it with speed - crushing the opposition defense with his considerable size and power. He was also a monster on defense, driving the Horton players back past the gain line with every hard tackle. His athletic prowess is matched only by his humble nature. The KES rugby boys are very proud of their Milk Man!
Athletics is one of the four pillars of a King's-Edgehill education and why we offer three seasons of various sports and athletic programmes. Download our Athletics PhotoJournal to discover which of the over 20 different options your child will love.