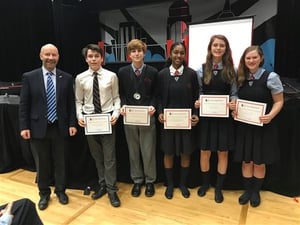 "Athletes of the Week" (AOW) are selected based on athletic performance and sportsmanship. Positive sporting behaviour is valued at KES and integral to our Athletic Philosophy and School Mission Statement emphasizing gentleness and learning and dignity and respect.

For the Week of November 4th – 10th

Senior Girl: Haley Hunt's undeniable grit and determination were evident in the Varsity Girls' volleyball games against West Kings and Annapolis West. With players missing, Haley adjusted to different positions that she had not practiced before and still managed to defend the court by diving for every ball. She also put 110% into each game at our pre-regional tournament at West Kings and was a key player in securing our spot for a challenge game against Forest Heights. Great work, Haley!


Senior Boy: Patrick Browne
led the Boys' Volleyball team, both on and off the court, at the Avon View D1 tournament. With little experience on the team, his determination and hard work inspired the team to play their best and never give up despite the fierce competition. Great work, Patrick!
For the Week of November 11th – 17th
Junior Boy: NA


Junior Girl: Julia Field
had a great home basketball game vs Lo Ellen Prep on Saturday night! It was an excellent performance on the defensive side of the court against older (some as much as 4 years older than Julia), and more experienced, elite-level players from Ontario (including Ontario Provincial Team Players). A solid contribution of 4 points towards the team's effort in 12 minutes of play in Saturday's game matches Julia's always-positive attitude. Her coaches recognize her as a great supportive teammate and member of the Girls' Prep Programme. This weekend really showed that Julia is developing very quickly, and we are looking forward to seeing her on the court in our next competition. Keep up the great work, Julia!

Senior Girl: Aaliyah Arab-Smith had a great home-opening weekend on November 15th and 16th for the Girls' Prep Basketball team. Aaliyah contributed 20 points, 12 rebounds and 4 assists during Friday night's exciting 65-60 win over Lo Ellen Park from Sudbury. The next night, in a loss to the same Lo Ellen Park team, Aaliyah led the team with 17 points, 8 rebounds and 4 assists. Not showing production on the offence side of the floor, Aaliyah kept pushing the team to achieve our effort levels and she demonstrated excellent leadership during the entire weekend. Great performance, Aaliyah!

Senior Boy: Lucas Gimenez
competed this past weekend in the Cadet Biathlon Zones for Shearwater East. A second-year competitor, Lucas shot 9 out of 10 targets and ran 3 fast one-kilometer loops to capture 1
st
place and the GOLD medal among 45 competitors. In concert with
Edward He
, Lucas went on to win the GOLD in the Open Male category. Lucas is a dedicated shooter and a fast runner and his level of fitness will push him to the forefront in this year's competition. Well done, Lucas!