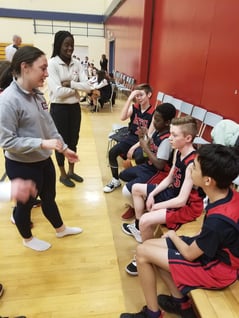 Tuesday's Hoopla Tournament heralded the end to the Basketball season here at KES. Six junior high teams, including two co-ed ones from KES, began playing at 9:00am and the cheers, smiles, and competition didn't stop until the end of the day. As always, Kevin Lake's secret weapon, the Run-Dribble-Shoot Competition, was a hit with our very own
Colin Stephens
losing out in the final round for second place! In tournament play, six teams registered at least one win on the day, and there were quite a few close games. When the dust settled, our KES "A" team won the final by 9 points over CK. While our Junior basketball players gave their all in the floor, what was equally as impressive was the work done by three of our Grade 10 students.
Kyle Clanachan
(with the A team) and
Jess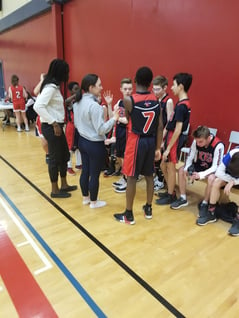 Keripe
and
Gala Holm
(with our B team) were phenomenal in their coaching roles. They did a great job to make sure our players had a great experience and should be commended for volunteering their time.
A big thanks to Jennie Weisner for her Athletic Therapy support, Blake for his gym set-up, Kevin Lakes for his unwavering support for our Junior Athletics programme, and for the staff who supported our players, coaches, and timekeepers so they could take part in this event.
What do KES boarding students do on the weekends and evenings? Download the KES PhotoJournal, A Day in the Life of a Boarding Student, to find out.