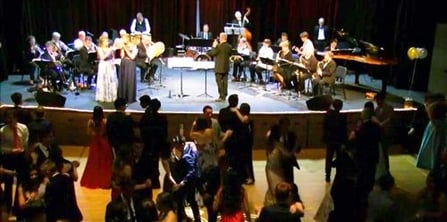 Last Friday night, the Fountain Performing Arts Centre was buzzing with energy: finally, the evening of our Annual Cadet Ball had arrived. Officers' uniforms, tuxedos, new suits and, of course, beautiful ball gowns filled the complex; everybody was smiling. Few teenagers have an opportunity to experience a formal dance with a 23 piece Big Band. The Big Valley Swing Orchestra (I play lead trumpet and co-direct the group) provided music for the occasion, and we lured the eager dancers to the floor with our very first tune. Leading up to the event, students took weekly dance lessons to learn how to 'jump, jive an' wail' (excuse the pun, but I had to), and their efforts were evident in the number of kicks, spins, and flips that kept people alert and on their toes. Since KES Jazz Band members, vocalists, Kathleen Balcome and Nicola du Toit, pianist, Bryan Li, and guitarists, Mike Moreno and Max Cole were in attendance, I was honoured to invite them to sit in with the band to perform Blue Skies. Needless to say, they did a terrific job. The video camera was situated at the back of the theatre balcony, so the audio is cluttered by crowd chatter; however, I am excited to offer you a glimpse into the gala event and their performance. Watch the video here.

KES Voice Students Recital - Please join us in the Vair McLellan Concert Hall on Tuesday, June 4th at 7:00pm to hear eight dedicated KES voice students present music they have been working on this year with voice coach Amanda LeBlanc. Their selections span old favourites, contemporary pop, and musical theatre, so there is sure to be something for everyone to enjoy (and maybe hum along to).
There are so many activities here that get students doing more, while we help them aspire to be more. If you're considering King's-Edgehill School for your child, you may want to connect with a current KES parent for answers and insights. We'll connect you with one here.