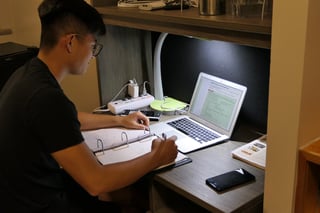 Boarding schools are accredited independent schools (CAIS) that offer an engaging and enriched educational experience. They are a home away from home for many children whose parents are looking to give their children the tools they need to do and be more. Enrolling your child in a boarding school means giving them the freedom to form lifelong friendships and experience an educational experience unlike any other.
King's-Edgehill School is proud to be a CAIS Boarding School. Our family consists of 350 university-bound students from Canada, North America and around the globe. We not only offer outstanding academic programming, including the International Baccalaureate (IB) Programme, but we also strive to provide the best in athletics, arts, and extra-curricular activities for all KES students.
King's-Edgehill is a vibrant, energized school. Our students work hard, but they also play hard! We believe success in school isn't just about learning in a classroom, but also having fun and physical activity. Athletics and sports are an integral part of life for everyone at KES and include activities for all interests, including hockey, basketball, skiing, horseback riding, swimming, and so much more; there are 24 to 26 sport options!
We also offer incredible Fine Arts programmes in the areas of drama, music and visual art. The arts are a part of our regular curriculum as well as extra-curricular activities. Students interested in the arts are regularly given the opportunity to showcase their talents throughout the academic year.
Students who choose to board at KES are also given the opportunity to explore the local community, as well as the world at large, with weekend field trips and volunteering opportunities. As well, many KES students participate in memorable March Break trips to Europe, Africa and beyond.
Parents send their children to KES because they know they are providing them with the best opportunities to be more. Our students are not only ahead academically; they are also taught resilience, leadership skills and independence. These skills stay with our students long after they graduate.
Despite rumours that boarding schools are only for the elite, a recent survey of parents with boarding students found that over 20 percent were firmly middle-class. These parents can afford to send their children to boarding school through financial assistance and entrance scholarships. There is over $15 million worth of support provided to CAIS families on an annual basis.
In today's world of ever-increasing helicopter parents, boarding schools serve as an invaluable social and emotional bridge in a student's developing sense of growth and independence. For more information on the truth and falsehoods of boarding schools, download our new eBook: Boarding School Myths Busted.