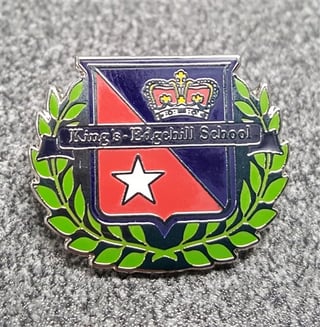 At our most recent assembly, we presented lapel pins to 26 of our students who have been named or appointed captains of their respective varsity teams during both the Fall and Winter seasons. This is the first year we've presented these "Captain Pins" and they serve as a way to formally recognize the leadership positions these student-athletes hold as a part of their athletic commitments here at the School. These students have also been taking part in our Captain's Council leadership programme which helps to support and further develop our students' leadership abilities.
The pin itself shows our School's athletic crest surrounded by green laurel. Laurel is a symbolic image as it was awarded to the champions of the first Olympic Games in ancient Greece. Interestingly, it was also customary for laurel to be awarded to distinguished poets as well, which is fitting considering how committed our own athletic leaders are to their academic studies. The expression "don't rest on your laurels" is also derived from this symbol and will serve as a constant reminder for our captains to continue to grow as leaders within our School community.
The captains for our Track and Field and Rugby teams will be presented with their pins closer to the Spring season once they have been finalized. The following are our first Captain Pin recipients:


Boys Soccer -
Adam Evelyn
and
Josh Mills
Boys D3 Soccer -
Lane Latrielle
and
Justin Betance
Girls Soccer -
Amy Marchand-Dion
Cross Country -
Lindsay Hogan, Meredith Chambers,
and
Luis Espinosa
Girls Volleyball -
Romina Ghaisi
Girls Hockey -
Lea MacLeod, Mae Batherson, Kenzie Cecchetto, Morgan Rogers
and
Lynn Fraser
Boys Hockey -
Marshall Plandowski, Chris Consmueller, James MacGregor,
and
Michael Oliver
Wrestling -
Nathan Danquah
and
Tea Racozzi
Boys Basketball -
Cameron Ross
Girls Basketball -
Julia Strickey
and
Tessa Firth
Ski Racing -
Alex Oulton
and
Eric Dufour
Biathlon -
Madi Taljaard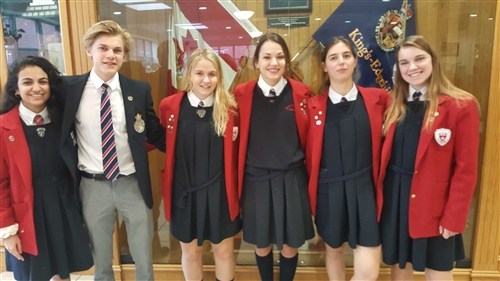 For more information on athletic programs offered at King's-Edgehill School download our Athletic PhotoJournal.