Universities look for students who have the potential to succeed. That's no mystery. Prospective students should be equally discerning in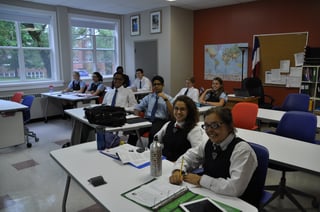 choosing which universities that they'd be interested in attending. While grades and extracurricular experience are important and quantifiable criteria, being a good fit in terms of personality and enthusiasm is equally important. Your child will have to decide which universities that like to attend, so we help them find universities that pique their interest and inspire them to succeed.
On the other end of the spectrum, many universities require entrance examinations, and almost every university in the United States requires applicants take either the SAT or the ACT. For this reason we provide SAT and ACT preparation services like practice examinations. In addition, we are an SAT examination site that offers the test five times a year.
Prep Groups Guide Students through the Application Process
"Prep groups" place grade 12 students into small groups of about a dozen who receive one on one attention from our staff and support each other through the university application process. These groups prepare students not just for the application process but also the life ahead of them in university. Your child will engage in group discussions over numerous topics including:
Finding and applying for scholarships
Completing applications
Surviving the first year of university
Different degree programmes
Small vs. large universities
Finding a good fit in a university
Prerequisites for degree programmes from bachelors to medical or doctoral
Careers after university
Scholarships
Earning a scholarship can make or break the decision whether to attend a university, and many scholarships are great honours themselves. We will help your student at King's-Edgehill School to find scholarships that they might be eligible for and to learn how to write compelling scholarship applications for them. Every year, scholarships for Canadian and North American students go unfilled—some of which, your student might be able to earn.
University application season is in full swing over the Christmas holiday, and King's-Edgehill students are some of the best-prepared. Our staff and faculty are there for your students all the way from choosing where to apply to finishing scholarship applications whose deadlines might be months after most university applications close. We are proud of the fact that 100% of our graduates are accepted to university every year and our graduates have averaged more than $1 million in university scholarship awards for the past decade!
If you are interested in surronding your student with university bound peers, why not plan a visit with us?