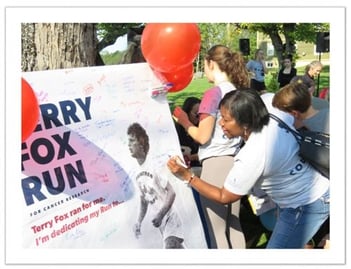 Sunday, September 15th marks the 39th Annual Terry Fox Run for Cancer Research and, once again, KES will host the Windsor community event. It will be great to see the entire student body, alumni, parents, KES friends, faculty, and the extended Windsor community continue Terry's Marathon of Hope. Whether running, walking, pushing a stroller, or cycling the five kilometre route through town, participants are invited to complete the lap as many times as desired. The smell of barbecued hamburgers and hotdogs always provides good motivation on the final trek up the front hill. The spirit is festive and our student musicians provide first-rate entertainment as participants mingle and enjoy a post-run barbecue lunch in the Quad.

Our student volunteers will be busy bagging groceries at the Windsor Superstore Friday (today) from 2:00 - 8:00pm. Why not grab a few groceries before tomorrow's storm and also support a great cause!

There are a few 2019 commemorative t-shirt ($20/ea) left and if you are interested, please call the main office (902-798-2278). Our annual Terry Fox 'Dress Down Day' will be held on Thursday, September 12th. Students, alumni and parents are encouraged to collect their own pledges for the 2019 Terry Fox Run. Individual pledge sheets are currently available on-line: www.terryfox.org, or in Marshall House.

At KES we are great supporters of the Terry Fox Run, and our community has been instrumental in raising money for innovative cancer research. It is amazing to think that the efforts of our KES community over the past years have raised over $275,000! Last year's contribution of just over $17,000 placed our Windsor Run 3rd in the province for fundraising out of 70 run sites across Nova Scotia. We hope to maintain this leadership position in 2019.

Families, pets, friends, and neighbours are welcome. Spread the word and see you at the starting line.

Let's all be a part of the cure!

Student volunteers not only strengthen a community, but also builds the foundation for a compassionate and caring adult. At King's-Edgehill School, we help your child be more than he or she ever thought possible through volunteer work. Read more about our student volunteers, here.