Marek Pramuka (1993-96) is living an American dream, and he traces its possibility back to a single moment in 1993.

"I was a boy and our hockey team was representing Slovakia in Montreal, and I thought that was the dream. Then the Headmaster of King's-Edgehill, Mr. John Messenger (1990-95), asked me if I would like to come to King's-Edgehill School. Honestly, I thought he was kidding!"

Mr. Messenger and coach Darcy Walsh (1975-1977; staff 1980-2016) were following the recommendation and advocation of Dr. John Chomay, a Slovakian-Canadian who was devoted to helping boys from his homeland succeed in North America. Dr. Chomay was a professor at McGill University and facilitated the connection. KES invited Marek as he was a strong student as well as an exceptional athlete. This was a high compliment as Marek, at the tourney, was playing on a line with Michal Handzus, who would go on to play over 1000 games in the National Hockey League and win the Stanley Cup with the Chicago Blackhawks.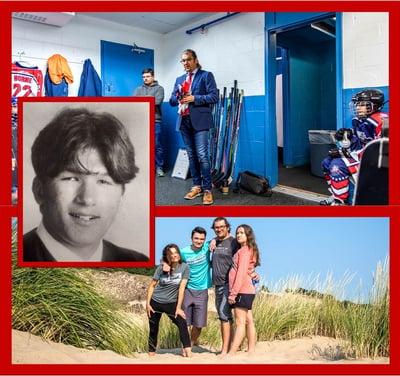 Marek seized the opportunity athletically and academically and played multiple sports at KES. He scored the winning goal, his second of the game, in triple overtime over the Riverview Redmen in front of over 2500 fans in Sydney.

Little did Marek-the-boy know at the time, his dream was just beginning, and it continues to this day well into manhood. Marek leveraged his years at KES, by then completing a post-graduate year of study at Deerfield Academy in Massachusetts and then accepting a scholarship at the University of Wisconsin-Superior to play NCAA hockey. He added to his academic resume by completing his MBA at the University of California, Riverside. "Everywhere I have gone since that day, I have been so lucky."

Like many talented, hard-working people, he overstates his luck as Marek always exuded excellence from the moment he arrived in Nova Scotia on a fall day in 1993, even though he spoke limited English at the time. Decades later, this coupled with his good fortune has resulted in him, and his wife Michaela, playing a key role in the success of The Storm King School in Cornwall-on-Hudson, New York. Marek works in Admissions and Marketing, while Michaela is the Creative Director. "The school is thriving, and I like to think we have played our role," says Marek with pride along with an awareness of the team.

Marek and Michaela are very proud of their children, who are taking opportunities provided to the next level. Son Pierce is studying on full scholarship at the University of Chicago after completing a tenure as a page for soon to be Senate Majority leader Chuck Schumer in Washington D.C.

His daughter Easton is not only named after a famous hockey brand, she lives up to it as an exemplary hockey player who is currently a highly ranked 12-year-old stand-out within USA Hockey. Interestingly, Marek may eventually be the third on the list of hockey accomplishments within his own family as his wife Michaela holds several scoring records at Wisconsin-Superior as a player as well.

One memory of Marek that stands out was that he always taped his stick horizontally. Initially we thought it was simply a Slovakian style; however, one day he admitted that it was because in Slovakia, tape was hard to come by and he could make the roll last longer.

Marek was correct to say that that moment in 1993 changed his life. I would add that it is evident from his family's accomplishments, that the moment changed many lives. By opening opportunities for the Pramukas, a boy born behind the Iron Curtain has lived an American dream.

Please click here to view Marek's testimonial.