Conversing with
Mr. Ryan Alguire (KES Staff 2015-19)
this week, one can't help but think that he remains close to Nova Scotia despite being geographically so far away in British Columbia.
I was chatting with him regarding his participation in a nation-wide project called
Operation Remembrance.
This programme will have students in each of the ten provinces produce a three-minute video each of which "Honours our Veterans". The results will be released by the
Royal Canadian Legion
sequentially during the first 11 days of this upcoming November 2021. Ryan is excited about leading his students at Vancouver's York House School (YHS) as British Columbia's delegate school for the project!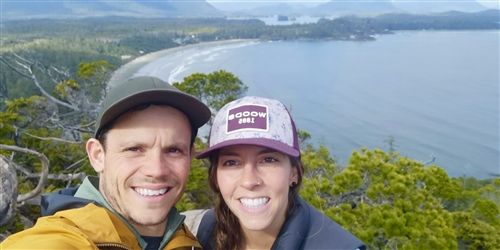 He has steadily and affectionately kept in touch with his East Coast friends since taking a full-time position at YHS. During the phone conversation, one tends to quickly forget that he is not somewhere on campus coaching, teaching, or officiating a rugby match.


Ryan and his fiancé, Katie, are pursuing careers on the "Left-Coast" as they were drawn by the professional opportunities, climate, adventure, and the attraction of existing at the epicenter of Canadian rugby. Ryan is well on his way to further recognition and advancement as an accomplished international Rugby official, an ambition that is difficult to launch from the fledgling Maritime Rugby scene.


"It's a bit strange. When Katie lived in Australia, I would go visit and return to home. I was on the move," says Ryan. "Sometimes I feel like I'm on one of those trips here in BC and will be home soon. Then I realize --- I am home in British Columbia, it's still weird."


As it has been for us all, the best laid plans have hit an obstacle with COVID-19. Rugby in British Columbia has been non-existent on the pitch; therefore, Ryan has made the adjustment and remained fit with other activities such as cycling to work and other outdoor adventures.


There are other adjustments that have broadened his perspective including the price of housing, teaching in an all-girls school, and not teasing
Mr. Campbell
and
Mr. Faucher
on a daily basis. "I own a rental property in Hantsport. The rent here is four times what I charge there, and my place is small," he says, expressing the urban reality of the Vancouver area.

Ryan is devoted to giving British Columbia the time it takes as he has not had much opportunity to experience this vibrant province unleashed from the restrictions of the pandemic. To fully reach his potential in the elite Rugby world, Alguire needs to percolate in the hotbed of Rugby on the Pacific Coast. His participation in Operation Remembrance is a reminder, however, that his influence can reach coast to coast!