Mr. Lakes
shares his weekly conversation with former student
David Akinboro (2019-20)
now living in Kamloops, British Columbia.
Wait a minute! David Akinboro is only 14 years old? He is not a KES "old boy". Oh, yes, he is! Having attended KES, one can also be a "young-old-boy."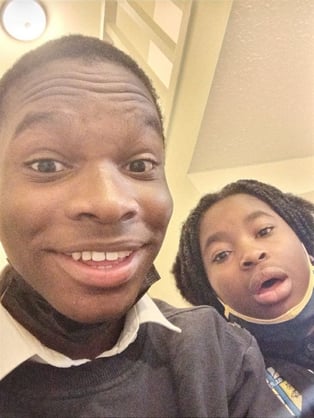 David was in my Grade 8 Rhetoric class last year and has since moved to Kamloops BC; however, he is still in our thoughts as we miss him. David's family moved to Kamloops for his mother to pursue a professional opportunity as she is a Lab Technologist. He is attending St. Ann's School and has maintained his excellent marks and continues to pursue basketball. I encouraged him to find a debating opportunity, as well, as he is a formidable speaker.


"I like my new school, but I miss KES," said David. He then reeled off names of peers he remembers fondly. "Say hi to Sasha, Colin, Rendi, Eva, Fox, Harrison, Tanvi, Lucas, Emily, Sabine, Anastasia, Nolan, Tony, Kaz, Adrian and Joe," exhibiting his quick memory of his classmates.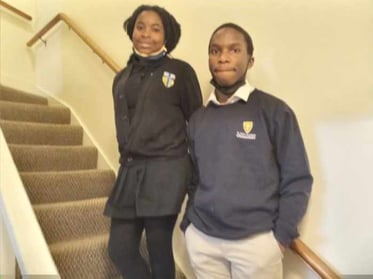 In fact, David contacted me after reading Connect, Converse, Catch-Up in a previous issue, so I was delighted to call him this week and reminisce on our pre-COVID days at KES, just last year. David says there is a viable chance he will be back in high school as his heart is at KES.


David's sister
Royaldiadem
also attends St. Ann's. They snapped a photo of each other as they headed off to school following our breakfast chat. David did say something interesting when comparing his school to KES. "I miss the food! Here lunch is a canteen, and it is not as good." Well, that is food for thought as we enjoy our KES food services. We miss you David. Stay in touch.