Mr. Lakes
shares his weekly conversation with former KES students
Camryn Kleynhans (2016-20) & Katie Goddard (2016-20)
I heard cheering coming from "the turf" and for a moment everything felt "normal" again. Protocols had lifted enough that we could host a small rugby jamboree, and it was a pleasure to see young people competing under the April sun.
Mr. Campbell's
girls were in fine form and track athletes were gliding by on the
Track of Payne
when I arrived. It was then that the day became even brighter, as I saw the beaming smiles of
Camryn Kleynhans and Katie Goddard
. Each of these young women are giving back this spring by supporting the Rugby and the Track and Field teams. We quickly began
Connecting, Conversing and Catching-up.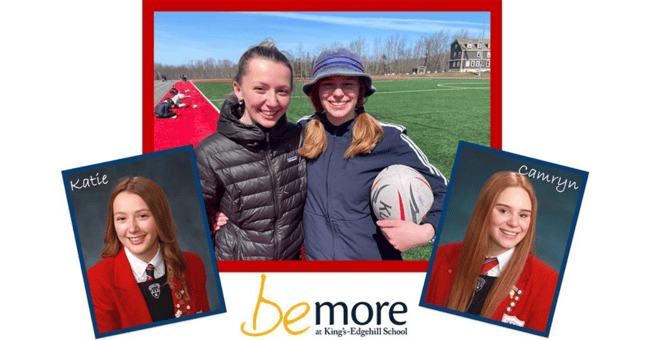 The three of us share a love of horses, so they were quick to excitedly tell me about the summer job they had procured together.
Camryn
and
Katie
have been hired to help run the Equestrian Programme at the Fox Harb'r Resort in Wallace, NS. They will lead the trail rides, care for the stable, and tend to the well-being of the ten horses residing in the stables while hosting guests at this lovely seaside destination.
"We are so excited to work together," said
Camryn
with her ever-present ebullience. "
Katie
told me about it, so I applied!" Each are experienced equestrians with
Camryn
first learning to ride in her native South Africa. "I haven't ridden much lately as rugby and school kind of took over when we moved to Canada," she adds. It will be a great benefit to Fox Harb'r to have these two university students back in the saddle for the busy resort season.
Katie
is attending Queen's University in her pursuit of a career in Health Care. She has completed her first year and has had academic success. "I actually enjoyed the focus of the online courses during COVID-19," she says. "I had more control of my school time and schedule which was a nice change."
Camryn
also did well at Dalhousie University with her focus on Veterinary Medicine; however, not surprisingly, she admits she thrives on the more social in-person learning. "I really did not like online," she says laughing. "I can't wait to study in groups, I need the interactions.'
Camryn
will be switching to St. Francis Xavier next year to continue with her rugby career and take on her studies in Biology.
So, if you are planning a Nova Scotia Staycation this summer and find yourself at Fox Harb'r, just walk around and listen for laughing… it is likely
Camryn
and
Katie
leading a happy cavalry along a beautiful path, where life for them, will be "normal."