Join Mr. Kevin Lakes as he shares profiles of KES Alumni. It's always fun and motivating to Connect, Converse and Catch-Up!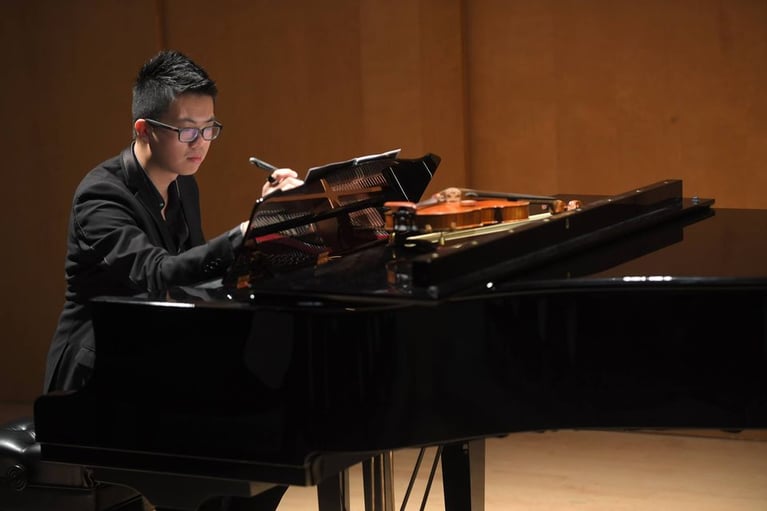 Fortunately, good schools are increasingly prioritizing the encouragement of diversity and inclusion. I recently had opportunities to contemplate plans of action with colleagues and students as we move forward with curriculum and extra-curricular strategies to ensure our community is aware of the nature of stereotypes and oversights. Even with the best intentions, we are all vulnerable to misconceptions. Perhaps this is why a recent Facebook post by Hsiu-Ping (Patrick) Wu '14 caught my attention and popped with prescience.

Patrick is an award-winning composer and violinist. He currently studies in Boston; however, he considers Halifax home. As a Taiwanese-Canadian, he eloquently expressed his perspective in a recent post:

"A colleague of mine recently asked me, 'Can your music sound more Asian? Maybe add some pentatonic in it?' I have studied western classical music, as well as traditional Chinese and Indian music. Should my music sound Asian? Should everything that comes from me be considered a part of 'Chinese music?' Can it not be simply Patrick Wu's music?"
It struck me that this question addresses the heart of the matter - to remind ourselves that artistic expression, athletic competence, and social interactions are nuanced and only partially a reflection of our ethnicity. Patrick ended his post with a poignant illustration of his diverse influences:

"Sometimes I drew inspirations from a Taiwanese forest, or a painting by Maud Lewis, or even a verse from Nirvana's Smells Like Teen Spirit."

I was delighted that Patrick articulated these ideas publicly, as I could not help but notice that he was having an influence on those who are following him in our music programme. Our current drum major and IB music candidate Mitchel Larkin '22 jumped in with a comment to Patrick:

"Too many times I've heard people stereotype the 'types of people' involved in music and what they create. Saying what they're 'supposed' to create. Music IS culture, and the world's many magnificent artists like yourself define what it means to THEM. Say it louder for the people in the back!"

In the words of the great American musical artist Wynton Marsalis, "Music is an art form that can give us a painless way to understand ourselves…a group of people can come together and create art…negotiate their agenda…with art…people can have a dialogue, people can have conversation…in the language of music."

Interested in following Patrick on his musical journey? Be sure to follow him on Instagram.