Mr. Lakes
shares his weekly conversation with former KES student,
Trisha Neville (Class of 1999).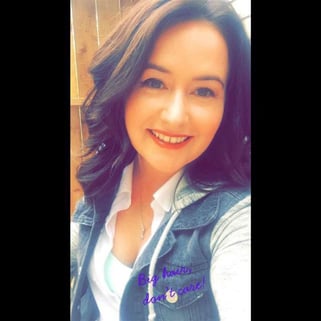 It was a deli
ght to receive a message from Trisha Neville last week. She asked me about a School trip we had to England in 1996 as she is interested in theology, architecture, and antiquity. She wondered if we visited Glastonbury Cathedral. We shared memories; however, I then became fascinated in her new line of work, operating heavy equipment in Alberta!
Trisha grew up by the Fundy shore in the fishing village of Halls Harbour. She was an artistic student, quiet and kind. As an adult, she has taken on a new geography and challenge as she is opening horizons for hardworking women! She operates a 24MCat Grader at the Fort Hills oil sand mine 90km north of Fort McMurray! She has been working in the industry for over four years. The grader is equipped with a 24-foot-long blade and a scarifier. The "ripper teeth" dig three feet into the ground to till the road in rough spots.


"I really enjoy working 50% of the year. This job has given me the opportunity to travel, pay what little debt I had off, get laser eye surgery, buy a home, and save for retirement. My next piece is the excavator and I'm so excited for that training," she says.


Trisha and her crew stay at the Mount Logan Lodge. It's like a hotel, with two gyms, games room, golf simulator, and steam room. Guests have their own room and private shower. Outside the lodge are basketball courts, walking paths, and an indoor skating rink. Crews fly in for seven days straight and then fly out for a week's break. Trisha speaks highly of her employer, mentioning that she finds the Suncor Company to be more environmentally conscious than is portrayed in the media. "Since the steam extraction method is used to separate the oil from the sand particles, 92% of the water is recycled in these lakes," she explains. "The area is reclaimed with plants, trees, and animals like buffalo over time."

Trisha says that more and more women are taking on the jobs in the energy sector and it's for a practical reason. "Women are encouraged to get into operations because they are the minority here and employers want to change that. Women do less damage to equipment, are more cautious, report issues with equipment sooner, and are perhaps more observant in general."


So next time you fill up your car or warm your home, think of Trisha in her 24MCat at the first link in the energy chain!