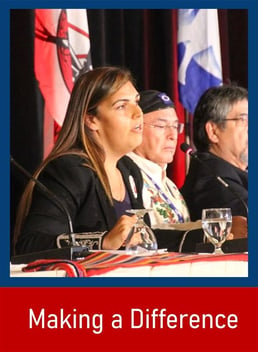 I met recently with the founder of the
Devour Food and Film Fest,
Mr. Michael Howell
, to discuss ideas for upcoming expansions of the organization's programming. Michael was excited about many things including the addition of
Zabrina Whitman (Class of 2006)
to his Board of Directors.
Zabrina! I find her name keeps "popping up" in positive and influential ways. I recently learned that she has been helpful and supportive to our Alumni Office as a connector and advisor.


Last year, the Junior School hosted our first
Indigenous Day of Learning
. Having
Elders and Artists such as Alan Knockwood, Bernie Francis, Ann Nibby-Woods, Michael Denny, Paul Primeau, Gwen Coleman
and
Jordan Smith
on campus was edifying to all. Once again, Zabrina's name came up as she is so well connected within the community.
Zabrina is also working closely with Acadia University as the Coordinator of Indigenous Affairs and Student Advising. She advises President Dr. Peter Ricketts. Moreover, she is building her consultancy business,
Young Soaring Eagle,
travelling widely, cultivating projects and sharing her advice.
She comes to her passion after developing a wide-ranging perspective studying at the University of Ottawa and later earning a Master's Degree in Global Studies at Queen's University. Additionally, she has lived in Egypt, New York City, and France. Zabrina is a global citizen with local expertise and roots nearby at Glooscap First Nation.
I had the opportunity to chat with Zabrina as she was driving to a meeting, and it quickly became evident that her current passion-project is to raise money for a Resiliency Centre for the Nova Scotia Native Women which will be located in Millbrook (near Truro). "This is something that is very much needed," she says. "There has been a lot of suffering from human trafficking and domestic violence." The determination in her voice and her articulate expression of the vision instills confidence that it will come to fruition. Zabrina has the energy, diversity of interests, and connections to ensure the project progresses.


Representing a perspective of caring and reconciling the past within key cultural touchstones such as Devour and Acadia University will buoy these Annapolis Valley organizations. We can count on Zabrina to play her part in a region where eagles soar in many ways. If you're interested in giving to the construction of the Resiliency Centre or want to learn more, reach out to Zabrina at
zabrina@youngsoaringeagle.ca
.