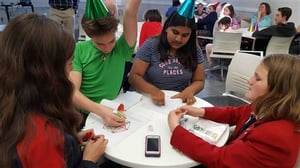 On Wednesday, May 16th, we travelled to Dalhousie University for the final Math Circles event of our school year. The theme was a "math party", and it was a great interactive way to end our yearlong commitment to math enrichment.
Erick Lee
, a mathematics consultant from the Halifax Regional Centre for Education, led us through the party problems and provided opportunities to play games while exploring mathematical themes. The activities started with the Game of Sim; students competed in pairs to outsmart their opponent by trying to avoid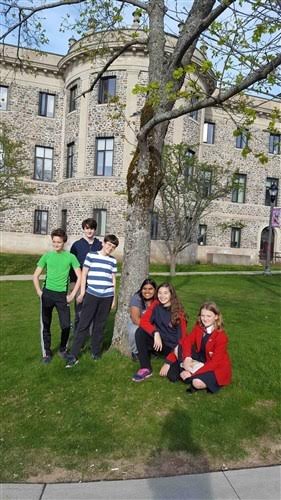 making triangles while connecting the vertices of a polygon. This led to a discussion about Ramsey's Party Problem and several other party-themed puzzles. Time flew by as our students worked collaboratively to solve the problems while enjoying the camaraderie of math friends and, of course, the free pizza and drinks. King's-Edgehill was well represented by:
Matvey Semenenko, Max Escaravage, Oliver and Athena Cox, Jayden Morrow
and
Mathangi Somasekaram
. We look forward to reconnecting with the Dalhousie Math Circles team when the new school year begins in the fall.
Try This: "Cut the Cake"
With three straight lines divide the cake (circle) into several regions with equal sums of their numbers. Lines should begin and end on the circle's periphery. They may cross each other, but not the numbers. The answer is in the next picture.