King's-Edgehill School is excited that we will again be including dance instruction in our already robust Athletics Programme.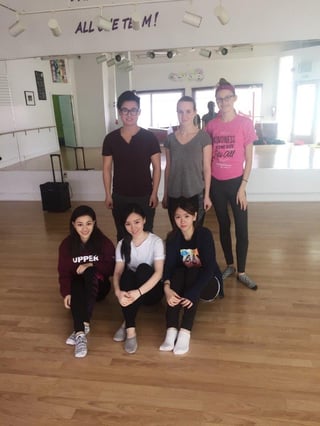 As you know, KES students are required to participate in a chosen sport on a daily basis. We offer more than twenty different options—some competitive and some non-competitive but all with the intention of helping your child reach his or her personal best.
Study after study has shown the benefits of exercise for people of all ages, and yet, according to an annual report card released by Active Healthy Kids Canada, Canadian children and youth received a dismal "D minus"
for overall physical activity levels. Only 4% of 12 to 17-year-olds in Canada meet the recommended guidelines of 60 minutes daily of moderate to vigorous exercise.
Active Health Kids Canada also reported that 82% of parents surveyed want their education system to place more importance on providing quality physical education. So we know that parents take this matter as seriously as we do.
Introducing our new dance offering courtesy of Dare to Dream
Instructors from the new Dare to Dream Dance Centre in Windsor, Nova Scotia have been invited to teach classes at KES. Dare to Dream focuses on offering varied classes in different dance styles—from Jazz and Tap to Acrobatics, Zumba and Ballet. Their stated mission is "to instil self confidence, positivity, determination, and work ethic in our students"—a mission that compliments our own goals for all KES students.
Our inaugural dance class will be held on Mondays from 4-5 and Thursdays from 3-4 p.m. We are proud to report that Ms. Kailee, Dare to Dream's Artistic Director and Owner, will one of our instructors.
Kailee has been training in dance since she was 13, beginning with Hip Hop and then continuing her lessons in Jazz, Tap, Lyrical, Musical Theatre, Ballet, Acrobatics and Contemporary dance. She has competed throughout the Maritimes, Toronto, New York City and Vancouver. At the age of 16, Kailee began her teacher training and found she loved teaching dance as much as she loved competing. We are so happy that she will be sharing her passion for dance with our students this spring.
Ms. Kailee will discuss a range of dance principles but the class' primary focus will be Hip Hop and Modern Jazz.
The benefits of dance for children and youth
According to Physical and Health Education in Canada (PHE), dancing offers invaluable benefits to young people, including a healthier heart and lungs, improved muscle mass, stronger bones and reduction in the risk of bone loss later in life, improved flexibility, coordination and balance, better mental functioning, and a reduction in obesity risk.
It's vital that your children have a physical activity that builds strength and confidence and allows them to "blow off steam" in a productive way. Plus it's just fun! Learn more about our full Athletic Programme by downloading your copy of our Athletics PhotoJournal.