While many people think of King's-Edgehill School as a junior high or high school, you may not realize we have a Grade 6 programme too. We've been welcoming Grade 6s here at King's-Edgehill School for a long time, but in the past few years we have seen the grade 6 option gain popularity. The programme has been a great success for the school and students alike.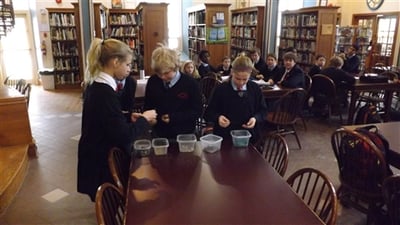 Our Grade 6 students join our Grade 7 academic programme. In our experience these Grade 6 students thrive in the Grade 7 programme. Keep in mind our average class size is 12-14 students per class and often our Grade 7 class is smaller. These small class sizes afford our students the one-on-one attention required to not only meet expectations but also really thrive. Teachers of such small class sizes are able to quickly evaluate the students' abilities and strengths and adapt to each students knowledge base and needs.
Once these Grade 6 students have completed their first year at King's-Edgehill School in the Grade 7 Academic programme they advance to the Honours Grade 7 programme. The honours curriculum is enriched, building on their learning and setting them up to continue in our honours stream and ultimately on to the IB program in High School.
Students who start with us in Grade 6 build a strong skill set that serves them well in the years to come. They will have completed two sets of exams (and built excellent study skills along the way). They will also have completed a science fair project, labs, various presentations and papers. These students are well prepared to excel in our honours stream.
Interested in learning more, why not visit us at King's-Edgehill School. In fact we have an Open House this coming Friday, full details can be found by following the link.
or Plan a vist at time convenient to you.