When you hear the term boarding school, images of Harry Potter and The Facts of Life may come to mind. Regardless of the events depicted on screen, boarding schools are well known to give today's students excellent opportunities in both education as well as life-preparedness skills.
King's-Edgehill School in Nova Scotia is a fine example of a modern boarding school.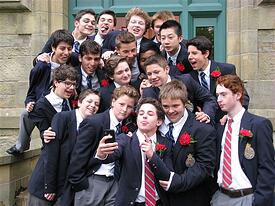 Canada's Oldest
Kings-Edgehill School (KES) was founded in 1788 by Bishop Charles Ingles. The Nova Scotia institution was the first independent school in Canada and its initial class consisted of 17 students. Today, over 300 students from many different nations come to KES to study, participate in sports and become involved in the surrounding community. Learn more about our history here.

Time Passes, Values Remain
Throughout our history, KES has maintained an educational environment where students have defined guidelines and are encouraged to gain the self-discipline and independence needed to succeed as adults. At KES, your child will learn to respect different opinions and maintain a sense of humility that will enable them to rebound from failures and disappointments. KES stresses that failure should never defeat the student; not trying again is really the only failure.
Different Ways to Learn
Teachers and administrators at KES understand that all students have the intelligence to succeed but some have obstacles to overcome. Our school understands the needs of students who face dyslexia, ADHD and other learning difficulties and we develop individualized learning methods to help each student reach their full potential. Learn more about our approach to Learning Differences here.

International Baccalaureate (IB) Program
KES offers the International Baccalaureate Program, giving your child the opportunity to take courses that have a challenging curriculum with global recognition. Students who have participated in the international baccalaureate program have gone on to study at prestigious universities throughout the world.
Speaking with alumni of King's-Edgehill School tells us, these students found themselves well prepared for post-secondary courses after the I.B. curriculum. One of the advantages most often mentioned is the discipline required to meet deadlines. Our staff also benefits from the challenge of a globally oriented curriculum, and love seeing our students compete successfully with other students around the world.
Learn more about the IB program here.

Looking Ahead to University
KES offers a university counselling program that will help your child decide on a career path and select post-secondary schools that will help them gain the required knowledge for these professions. They will be able to use an online program called Career Cruising, which gives them extensive information about careers. They'll learn about expected job prospects, salary ranges and the coursework needed to enter specific fields.
Every Grade 12 KES student is required to participate in a university Prep Groups. These small groups of students meet to discuss different aspects of selecting a university, forming good study habits and overcoming common problems faced by university freshmen.
Learn more about our Prep Group here.

Beyond School
A survey conducted by the TABS (the Association of Boarding Schools) revealed that 87 percent of the boarding school students feel prepared to face the rigors of university life. They reported that the boarding school experience helped them gain greater levels of independence and resiliency.
At King's-Edgehill, your child will not only gain a comprehensive education, they'll transform from a teenager into a responsible young adult ready to face whatever challenges may come their way.
If you're considering boarding school for your child, there are a few myths that you can safely ignore. Boarding schools are NOT lonely, sombre, elitist, exclusive or intimidating. Take the next step and download your copy of Boarding School Myths – Busted!