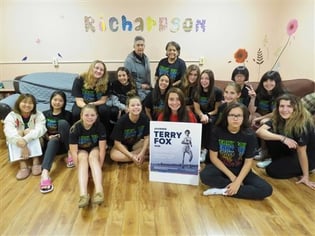 This year all of the junior girls living in Richardson Hall are new to our School. These twelve girls who are from China, Mexico and Canada are learning to celebrate and share their cultures and traditions to create a nice bond and, hopefully, long-lasting friendships.

We started the school year with a big win. With the help of our four enthusiastic Stewards: Amelia, Hidemi, Svenja and Yerin, all of our girls became a united group with a common goal: to help raise funds to help with cancer research. The Terry Fox Run took place at KES on September 15th and there were different fundraising activities organized by the different flats/houses. Mrs. Shields, our biggest Terry Fox promoter in our School, encourages us every year by issuing a Flat Challenge. It is always tough. Students come up with great ideas and everybody is willing to help in some way.

This year, besides the Terry Fox Foundation, Richardson Hall was a winner. We all worked hard for a noble cause. We are going to enjoy a nice pizza night. Not bad for rookies!