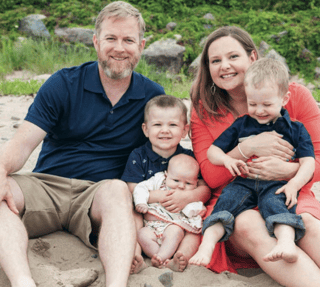 I graduated from KES in 2002 and moved to Dublin to attend the Royal College of Physicians and Surgeons in Ireland (RCSI) medical school. I am so grateful to KES for the knowledge and confidence to apply and then attend RCSI, if it wasn't for KES I would not have known about RCSI.
I completed a 6-year medical programme in Ireland and had the opportunity to travel around Europe. I graduated in 2008 and was accepted to begin my General Pediatrics residency training at the University of Ottawa in July of the same year.
After 3 years in general pediatrics I started a three year fellowship in Neonatal Perinatal medicine also at the University of Ottawa. I am currently in my final year of fellowship. My training has been delayed due to maternity leaves, my husband and I have three amazing kids; Lachlan is 5, Cormac is 3.5 years and Maisie is 16 months.
In May of 2017, my training will be finished and I plan on practicing as a Neonatologist, hopefully in the Ottawa area. Whenever I think about my time at KES I am overwhelmed with memories that fill my heart with happiness and laughter. I am so grateful for the experiences I had.
My advice for current KES students is to follow your dreams; you are capable of achieving them.