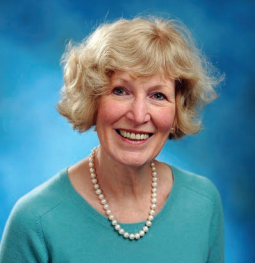 I was an Edgehill 'lifer'- I attended the School from ages 5- 15, in what would be Grades 2-11. While I was a day girl, I always loved the periods of boarding which happened every year, when my parents travelled or for other reasons. The friends made at Edgehill remain among my closest friends today. Along with several classmates, I left the School after Grade 11 and went to Dalhousie University where I entered a Bachelor of Nursing Science programme. The programme was a 'sandwich' programme: it was six years long, involving two years of Science, followed by three years of nursing training in a hospital, and a sixth year, which was a university Diploma in Teaching in Nursing. Reflecting on that programme, I think its structure, which combined academic and practical education, laid the basis for how my life and work unfolded.
The first few years after graduation involved marriage and raising a young family of three, along with working as an instructor at Dalhousie School of Nursing. I had opportunities to teach in classroom, community and hospital settings, combining my love of both nursing and teaching. Increasingly, I felt the desire to learn more, and when my youngest child was 4, I began graduate studies, and over the next 10 years, completed a Master's degree in Health Education and a PhD in Education. The decision to undertake graduate study was perhaps the most important I started at Carleton University studying Biochemistry and graduated with a Bachelor of Medical Sciences from The University of Western Ontario. From there I worked at a private boarding school in Ontario teaching Outdoor Education, then moved to Germany for a year. After this I began my postgraduate degree at the Boucher Institute of Naturopathic Medicine in Vancouver, BC. I graduated in 2013 with a Doctorate of Naturopathic Medicine.
I was lucky enough to squeeze in a fair amount of traveling between my endeavors and consider this instrumental in shaping my choices and led me where I am today. I always wanted to have a career in medicine and, while living in Germany, I was exposed to herbal medicine and homeopathy; their doctors are trained in both western and natural medicine. It inspired me to pursue this in Canada. I am practicing Naturopathic Medicine in my hometown of Windsor. Naturopathic Doctors are medically trained, naturally focused; we play a role in preventative health and getting to the root cause of disease. I have my own busy practice and feel lucky to help others navigate their paths to health. When I am not seeing patients in my office, Meet Dr. Adrienne Wood (2001-02): Naturopathic Medicine decision ever!
Upon completion of my PhD in 1986, I was offered a position in Dalhousie's Faculty of Medicine, working in medical education. That appointment began 30 years of exciting, challenging and rewarding work, teaching, conducting research and working in curriculum development and implementation with medical students, and in postgraduate and continuing medical education. I learned so much, worked with so many wonderful people, nationally and internationally, and enjoyed the work immensely. And in fact, I still enjoy it. Although I've 'retired' I now work a few days a week at the university and on various other projects.
Life is full in many wonderful ways. My husband and I have nine delightful grandchildren, and times with our family are much cherished! I had the great fortune of taking piano lessons and choral singing during all my Edgehill years, and for the last 10 years I have returned to both piano lessons and accompanying a choir. It's wonderful to be a student again and music is a very central part of my life. Importantly, I'm very privileged to have been able to stay in touch with the School and have been involved with King's-Edgehill as a Board member for many years. Recently I'm been honoured to serve as the Chair of the Inglis Education Foundation, the mission of which is to support the School in its goal of providing superb education for many young people. I marvel at the wonderful opportunities that the School provides its students. These experiences will provide a wonderful basis from which their life paths and opportunities to contribute will unfold.