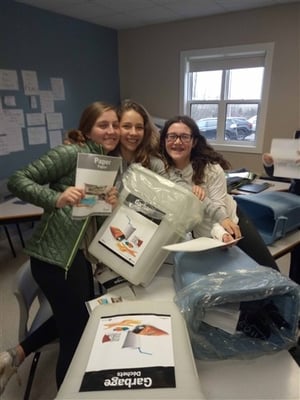 In anticipation of Earth Day this Sunday, April 22nd, students spent the day Wednesday getting in touch with nature and being stewards of the environment.
Mr. LePoidevin
set the tone for the day by cycling to School from his home in Port Williams, a distance of 32 km; even the cold temperatures at 5:30 am did not deter him.
Ms. Natalie McMaster
, from Efficiency Nova Scotia, was our guest speaker in Junior Assembly. She gave a compelling presentation focusing on ocean plastics and highlighting some interesting statistics, including:
8.3 billion metric tons of plastic have been produced since 1907
Approximately 9% are recycled
Plastic will never biodegrade
Following the presentation, students took part in environmental activities on campus. Seeds were planted, environmental awareness signs were made, compost and recycling bins were distributed throughout the campus, and students took part in an energy efficiency workshop. All Grade 8 students had an opportunity to tour
Mr. Lakes'
property in Wolfville, where the environmental features of living "off grid" were explained and beehive farming, maple syrup tapping and sustainable forestry were explored. Grade 7 and 9 students took part in a Windsor community clean-up,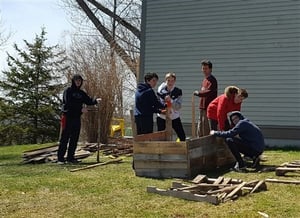 working purposefully to pick up litter from our campus to the Windsor waterfront area.
It was an excellent day. Everyone enjoyed the opportunity to raise awareness for environmental stewardship and to carry out activities to make our community cleaner and greener. Special thanks are extended to
Mr. Alguire
for organizing the day's activities. Interested environmental students are encouraged to exercise their leadership skills by joining the KES Green Team.