Although Monday, April 22nd, is recognized worldwide as Earth Day, we understand that every day is Earth Day, and a consistent approach to environmental stewardship is necessary. Last Wednesday, April 17th, the Junior School celebrated Earth Day and students got their hands dirty as they spent the day taking part in environmental activities.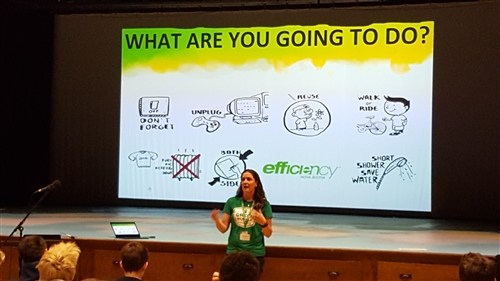 Mr. Kershaw and Mr. LePoidevin set the tone for the day by cycling to School from the Wolfville/Port Williams area, a distance of over 30 km. Even the cold temperatures and strong winds at 5:30 am did not deter them. Ms. Natalie McMaster from Efficiency Nova Scotia was our guest speaker at Junior Assembly. She gave a compelling presentation focusing on the depleting species on earth.

Following the presentation, students took part in environmental activities. Paper seedling pots were made, seeds were planted, and bird feeders were made from recycled pop bottles. All Grade 8 students had an opportunity to tour Mr. Lakes' property in Wolfville, where the environmental features of living off-grid were explained. Grade 7 and 9 students also took part in a Windsor community cleanup, picking up litter from our campus to the Windsor waterfront area. At the end of the day, the town of Windsor posted an online thank you for the 12 bags of garbage that had been collected.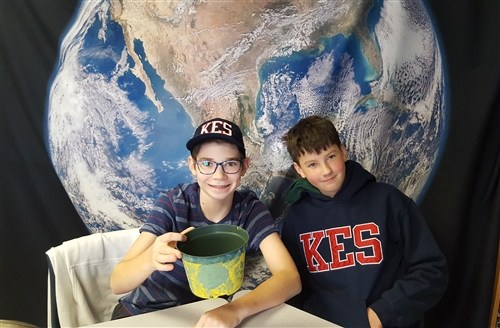 It was an excellent day. Everyone enjoyed the opportunity to raise awareness for environmental stewardship and to carry out activities to make our community cleaner and greener. Special thanks are extended to Mr. Alguire for organizing the day's activities. Interested students are encouraged to exercise their leadership skills by joining the KES Green Team.
This isn't the only example of King's-Edgehill School students contributing positively to our wider community. There are many opportunities at KES. Read more about our Student Volunteers here.