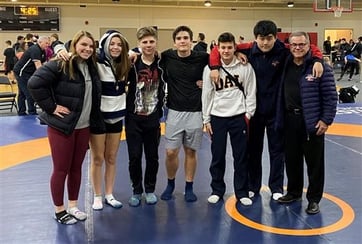 Our KES Wrestling team traveled to the Eastern Canadian Wrestling Championships last weekend at UNB in Fredericton, New Brunswick. We took five wrestlers and were fortunate to bring back two medals. GOLD medalist
Megan Maddie
had two excellent matches and is continuing to improve with every match. She is a great scrambler on the mat and is absolutely tenacious.
Greg Otto
took home the BRONZE in the U-17 men's 82 kg class. He had close results in all four of his matches and had some of his best wrestling in a close match against the gold medalist.
Stanislav Matkovsky
also had four matches and placed 4
th
, in the U-17, 71 kg class. He is a strong young man who is working on fine-tuning his technical skills, and he continues to improve in every match. He is also a work horse in practice.
Callum Lovelace
wrestled in the 71 kg weight class with the U-21 men. This was one of the toughest weight classes in the tournament, and he placed 5
th
, with some of his best wrestling to date. It was great to see Callum try numerous attacks and escapes. He is certainly one of our most skilled wrestlers.
River Qi
placed 4
th
with four great matches and one spectacular win in the U-21 men's 92 kg class. He had his hands full with some very skilled and tough wrestlers. He has gained valuable experience, which was our overall goal for the event. I officiated the university tournament and most of the Eastern Canadian event, but we were fortunate to have our students coached by Alumna,
Téa

Racozzi (2019)
. Téa was last year's captain and multi-provincial champion and national finalist. Many thanks to Téa as our students were thrilled and certainly benefitted from her support, technical knowledge and personal coaching style.
We will have a team of about 18 wrestlers at the Sackville High School Tournament this weekend.
We understand that some students thrive as part of a team while others prefer to compete individually to improve their personal bests. We value both types of competition. Download our Athletics PhotoJournal to discover more about our Athletics Programme.