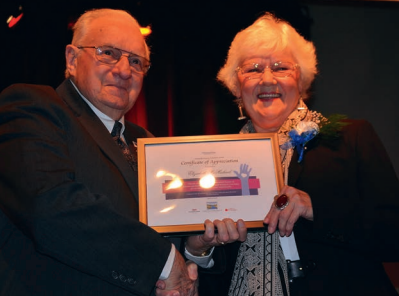 My first contact with Elizabeth McMichael (1950-1953) was through email. This lovely "Old Girl" was always one of the first to respond to my Alumni updates. Soon, it felt like I had this amazing friend in Cornwallis Park, NS, but strangely, I had no idea what she looked like! Then, it happened, I finally met the woman behind the messages. We were hosting the Edgehill 125 Reunion this past July and Elizabeth jumped in with both feet. She joined the Planning Committee and was invaluable immediately. Need someone called? Elizabeth would do it. Need piano accompaniment for a song? Elizabeth was on it. (This shouldn't be a surprise. "Betty" won numerous piano competitions while she was at Edgehill.) The more time we spent together, the more I realized what a unique and entertaining "Old Girl" we had in our midst.
Elizabeth has a remarkable way of living life for a 76 year old. She has been involved in the YMCA/YWCA in some capacity since 1967. Currently, she sits on the Advisory Board of the Elizabeth McMichael: Making our world a better place one seed at a time Alumni - Health & Wellness by Heather Strickey, Director of Advancement King's-Edgehill School Alumni Magazine - Life Connections 2016 FUNDY YMCA, attends the swimming programmes, and volunteers with the Walk & Roll programme that was established to encourage walking for those with mobility issues. This wonder woman also works with the YMCA assisting in some of the youth programmes. Elizabeth assists at their day camps when she can and runs the Green Thumbs programme.
As you can see, Elizabeth has a passion for the programmes offered by the YMCA; however, this is not the only volunteer group she assists. One of Elizabeth's greatest contributions to her current community of Cornwallis Park is her establishment of the Cornwallis Community Gardens Association (CCGA). Elizabeth spends countless hours designing the gardens, weeding, watering, planting, harvesting, and enticing volunteers to help her with her mission. The mission is to engage as many youth and seniors in the garden as possible. Currently, there are 32 garden beds for hire and an orchard. Through Elizabeth's leadership, the Cornwallis Community Gardens have flourished. Over the past six years, the Association has received grants from all levels of government.
What led Elizabeth to her mission of bringing community gardening to her small community in Cornwallis? The answer is simple. "My fear was that once this generation is gone, there would be no one to teach kids how to garden. We need to give them hands-on experience in a real garden." Elizabeth's efforts on the behalf of her community have been recognized. In 2013, she was an Annapolis County "Volunteer of the Year" and again in 2016. In 2014, she was presented with one of three annual provincial awards. That Elizabeth has taken such an active role in her community does not surprise me. After all, she has been a "winner" her whole life. Whether it's "tickling the ivories," becoming Nova Scotia's first women's high school gymnastics champion, running Cornwallis' community gardens, or "walking and rolling" with the YMCA, Elizabeth lives life to the fullest.