The KES community has launched our Annual Giving Campaign. This year's campaign, Enhancing Our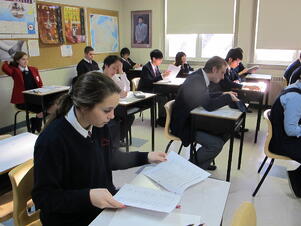 Classrooms, is focused squarely on students' experiences in the classroom.
The campus is beautiful as you may well know; however, the classrooms need modernization including several key technological enhancements.
Our students excel in the four pillars of King's-Edgehill School life: Academics, Athletics, Leadership, and Fine Arts. This year's initiative focuses on support­ing our students in their academic pursuits by enhancing our classrooms. Classroom furniture will be replaced, new audio-visual equipment will be installed, and state of the art com­puter technology will be integrated into each classroom.
Alumni, Parents and Friends of King's-Edgehill School play a key role in the School.
Please consider a donation to our Annual Giving Campaign. Opportunities exist to name a classroom ($25,000), Pod ($5,000), Display ($2,000), Wireless A/V system ($1,500), Table ($700) or Chair ($350). King's-Edgehill School has a long and proud tradition as being a leader in education, and this initiative will take our classrooms into the 21st century.
The mission of this year's KES Annual Giving Campaign is to get a 100% participation rate for KES Parents, Staff, Board of Governors, and Alumni. No donation is too small. You might feel hesitant because you feel that you might be able to give more at a later point in your life, don't think that way. No donation is too small.
Are you ready to help create state of the art classrooms? Click below to donate.