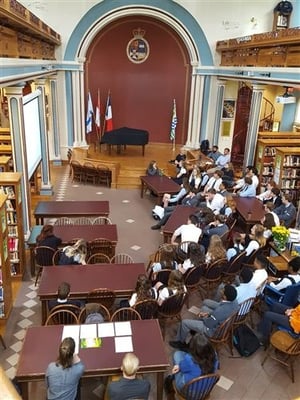 Earlier this month our Law class and Environmental Club at KES were privileged to participate in an invigorating and challenging presentation, activity and debate on a case study that closely mirrors some ongoing environmental concerns in our geographic area.
Lisa Mitchell
,
who is the Executive Director of East Coast Environmental Law
, did a masterful job of planning the event for the 27 student participants. Many legal issues have many dimensions and points of view, which prevents an easy solution. Part of the activity had students taking on the roles of farmers, environmental groups, businesses, Indigenous peoples and government to discuss and debate a solution for the given case study.
As a teacher you know a lesson is a success when the dialogue continues beyond the class, and this is exactly what happened in this case! I would like to thank
Lisa Mitchell
and her fine group of (no less than) six other university students of law for organizing this event and executing it flawlessly. It was a fine way to cap a great year for our Law class!
Since 1788, King's Edgehill has upheld a tradition of excellence and achievement. We are a home away from home for our students. Plan your visit and find out what makes King's-Edgehill the best school for your child.