The King's-Edgehill ESL Camp 2015 was a great success! It was a wonderful opportunity for your international students to get to know each other, build friendships and ease their minds prior to the start of the school year. It is also a chance for students to become familiar with our local surroundings, and to explore the beautiful province of Nova Scotia. Your students enjoyed navigating the Cabot Trail in Cape Breton, sea kayaking in Mahone Bay, visiting the Halifax Citadel and learning about the birth place of hockey, just to mention a few of the exciting excursions.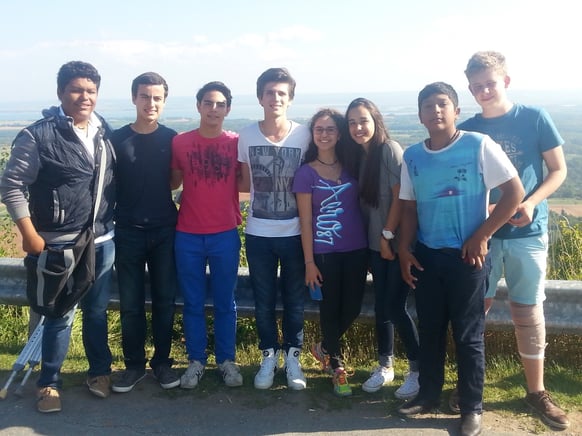 This promises to be a great school year. The ESL department at KES has expanded, as we welcome Mr. Gregor Awsian and Ms. Sally Wride to our team. Mr. Awsian is teaching Grades 7-9 ESL. Ms. Wride is teaching Grade 9 ESL, as well as offering support for ESL students in various subject areas. We welcome back Ms. Janice Kleiner as our ESL Liaison for the Junior School, and Ms. Angela Folker as the department coordinator. We are very excited to inform you about the four new programs being offered by King's-Edgehill to enhance the life and learning of our international students.
Firstly, we are pleased to offer additional support for our English language learners this year. Besides course instruction and tutorial support groups, students will have the opportunity to develop and strengthen their English skills through language lab exercises. The software required for language lab tutorials is Rosetta Stone, an interactive program that provides opportunities to practise reading, writing, comprehension, vocabulary and grammar skills. These sessions will occur several times a cycle during students' spare periods. Students will work independently during language lab, under the supervision of Ms. Wride or another ESL instructor. Ms. Wride will be able to track their progress, and meet with students each cycle to review and practice language concepts.
This brings us to the second program. Student progress will be assessed throughout the year with the TOEFL Junior testing system. This is another great addition to the King's-Edgehill ESL program being implemented this year. Students will be tested at the start of the school, the end of November, early March and at the end of May. The TOEFL junior system is scaled with the TOEFL and IELTS scoring systems and the CEFR, all of which can be used to indicate student language ability and progress as they work towards preparing for university entrance.
Thirdly, additional ESL drop-in support tutorials will be offered after classes and one evening each week. Students will be encouraged to go to the ESL lab/drop-in centre for extra help with homework and proofreading of assignments. This will provide the opportunity to ask for extra clarification of materials covered in the core subjects and to have written assignments proofread before they submit the final drafts.
Lastly, we will be planning a variety of "Fun Friday" events for the boarding community. This will include all the boarders. These fun filled activities will encourage students to mingle with people of all nationalities and languages. We will have international cooking days, games nights, singing, dancing, intermural sports tournaments and off-campus excursions. This is a great way for the boarders to make new friends, learn about other cultures, teach people about their countries and just have fun.
The first fun Friday kicked off with sushi night. About 20 students met in the cafeteria and made sushi rolls together. We had sticky rice, nori paper, wasabi, smoked salmon, cucumber, avocado and soy sauce. It was obvious that some students had a lot of experience, and their sushi rolls were works of art. Meanwhile, a few first-time sushi rollers invented giant sushi globs. Regardless of the shape, the sushi was very delicious and a fun time was had by all.
We are excited about these opportunities, and believe that they will be great additions to our program. We are confident that these language practice opportunities, along with class instruction and support, will help your child to become more confident and proficient when using English.
As a KES boarding student your child will have the ability to learn more, do more, be more with amazing opportunities including volunteering in a hospital or seniors' residence. You'll find information about this and more in the downloadable PhotoJournal, A Day in the Life of a Boarding Student.