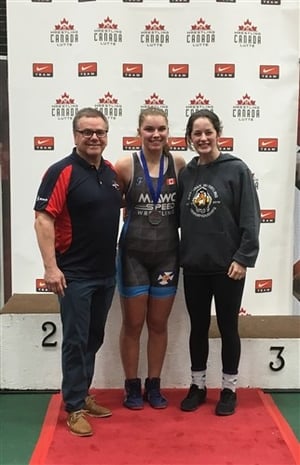 Three KES students wrestled in their first-ever National Wrestling Championship in early April.
Callum Lovelace
(Grade 10),
Bella Turner-Galaise
(Grade 9) and team captain
Téa Racozzi
(Grade 12) both trained the two weeks prior to nationals by wrestling early each afternoon followed by rugby practice immediately after.
Bella
won the PEI and New Brunswick Opens over the March break.
Téa
, competing in her fourth and final year of our programme, wrestled to a SILVER medal at the National finals in the under 19 age group. She became more confident as the tournament progressed and worked hard to move up the rankings. She progressed to the quarterfinals and semifinals against opponents from Sarnia, Ontario and Grande Prairie, Alberta, respectively.
Téa
won each of those matches by pin and had been successful with her throwing and control positions. She lost a close final against her opponent from Ontario in the championship match, who bested two wrestlers from Alberta and one each from Manitoba and Ontario.
Téa
outscored her opponent in the second half of the match, after being down 6-0 in the first half.
Téa
was one of only two wrestlers from the province of Nova Scotia at the National Championship to bring home a medal. Both girls brought home SILVER and neither athlete participated in the Greco event, which is much smaller event on the final day. This year to date,
Téa
has captained the Senior Girls Soccer team, the Wrestling team and presently the Senior Girls Rugby team, and she has already won Provincial Championships in cross-country running, wrestling and snowboarding. She is now competing with our Senior Girls rugby team and hoping to support their bid to make it to the Provincial Championship.
Bella
competed in her first National Championship in the under 17 category. She won two and lost two for a great 5th place finish, defeating opponents from British Columbia and Alberta. She placed as high as all other competitors from the Nova Scotia contingent, other than the two medalists. She will be a force to be reckoned with as she gains valuable experience.
Although
Callum
did not win any matches, he showed great determination and will be heading back to Nationals next year in the same category. His decision making continues to develop on the mat and he is one of a few young KES wrestlers who we hope are able to make the next Canada Summer Games Wrestling team for 2021.
This caps off a great season for our King's-Edgehill School athletes who wrestle for our club, the Windsor Mat Kings.
Téa
defended her high school Provincial Championship with a second straight individual win and added an Open Eastern Canadian Championship this year.
Callum
was a SILVER medalist at this year's Provincials, as a first year senior.
Bella
was a Provincial champion and will move up to the senior high school division next year. Coaches are very excited about this strong base for the future of our KES programme.
Achievements like this make parents so proud! We find that most parents of King's-Edgehill students are happy to help out whenever they can and are eager to answer any questions prospective parents might have.