At Kings-Edgehill School we adhere to the highest standards of excellence. This includes our programmes, facilities and even the delicious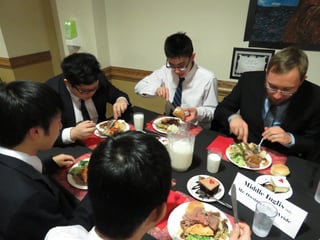 foods we provide for students each day. We believe strongly in feeding minds the wealth of wisdom, and in feeding bodies the wealth of health. In addition to offering stellar academic and athletics, we also model to these future leaders the importance of consuming life-giving foods.
You have an expectation that your students are being properly fed while at our school and we're pleased to affirm that their nutritional welfare is a high priority. Working with Chartwells, our food programme is founded upon the principles of wellness and sustainability. Through three meals and snacks we provide nutrient-rich foods that fuel and energize the body to meet each individual's daily demands. We're honored to offer local seasonal produce and seafood, cage-free dairy products, and vegetarian and vegan options. Meatless meals are promoted to encourage lasting heart health, and we only use trans-fat free oils and margarine. The KES café menus have Balanced Choices for healthier eating and we serve certified fair trade organic coffee.
The foods you eat play a significant role in how you feel and perform, therefore at KES we empower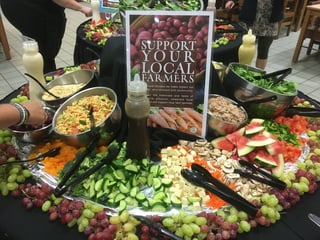 our students through nutritional education. Nutrigrams, a monthly newsletter, teaches students how and why to make wise eating choices for themselves. There's also a SuperFoods flyer that informs them of several powerful foods that, when incorporated into diets consistently, assist in maintaining weight, fighting disease and prolonging life. Both of these resources can be found in the campus cafés.
KES also educates our students about how the foods we eat impact the environment and community. We choose wild, sustainable Pacific salmon for health and to support the seafood industry. We buy locally grown seasonal produce that isn't shipped over great distances which decreases our contribution to the region's carbon footprint. We're proud to stock our campus with majority Canadian-made foods and beverages. Our kitchens and dining areas compost food waste, utilize chlorine-free cloth napkins and reusable cutlery for meal times and catered events. Your students participate by honoring our requests to reuse and recycle, and to refrain from food waste as much as possible.
And we do much more because we believe in excellence. At KES we take pride in knowing that our high standards extend beyond the classrooms and into our youths' lifestyles. Therefore, we assert with confidence that your students are being wholly educated and served – in their minds, bodies and in social responsibilities.
While a great deal of thought goes into the food we serve, we also have a lot of fun around the table with themed nights, headmasters dinners, food fun – gingerbread house making, Oreo stacking, sushi nights and much more. Learn about all if it in our latest ebook.