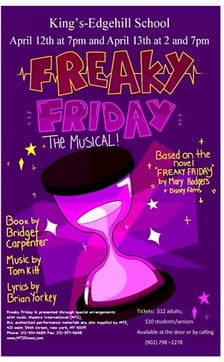 When an uber-organized mother and her spontaneous teenage daughter magically swap bodies, they have just one day to put things right. Masquerading as each other, they must work together to solve the mystery of how to break the spell. By spending a day in each other's shoes, Katherine and Ellie come to appreciate one another in a way they never could have imagined. In the end, both learn the true power of love and the strength of the bond between a mother and daughter in this heartfelt and hilarious adaptation.
There are 3 performances for the show so come out and support this wonderful cast on:
Friday, April 12th

7:00pm
Saturday, April 13th

2:00pm & 7:00pm.
There's always something exciting going on at King's-Edgehill School -- it's in the air. You can hear music in the halls, smell healthy meals cooking, see original artwork and performances and feel the energy of students who love to learn. Experience it for yourself! Plan your visit here.