A second language is a wonderful thing to have. It opens the door to new cultures, literary traditions and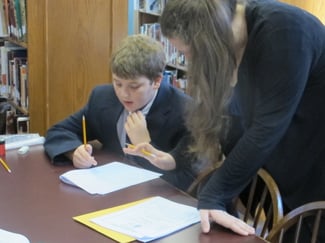 pathways in the brain. In Canada, French is our official second language. We offer several programmes to help your child hone their French language skills.
Our Junior Students receive French instruction at the academic or honours level. We also offer Science Humaines to our Grade 8 and Grade 9 Honours classes. Students looking for more intense French instruction are offered enrichment. (Our International Students, for whom English is itself an additional language, have the option of improving their English in lieu of studying French.)
Our students are also given the opportunity to demonstrate their French competency by writing the DELF exam. The DELF (Diplôme d'Études en Langue Française) and DALF (Diplome Approfondi de Langue Française) are official diplomas awarded by the French Ministry of Education to certify the competency of candidates from outside France in the French language.
DELF-DALF are composed of 6 diplomas that correspond to the six competence levels identified in the Common European Framework of Reference for Languages (CEFR). There is a version of the DELF adapted to teenagers. At each level, 4 skills are evaluated: listening, speaking, reading, and writing.
The exam is designed for anyone who would like his/her French skills to be recognized for personal or professional purposes. These diplomas are also recognized by some French universities and Grandes Écoles as meeting French language requirements for entry. For more information about DELF DALF exams in Canada, follow this link: http://delf-dalf.ambafrance-ca.org/en/
We are confident that King's-Edgehill School can provide students with ample opportunity to build their French skills. If you have a child joining us from a French Immersion programme we would welcome the opportunity to discuss their specific needs. You're also welcome to speak with an existing parent about their own child's experience at King's-Edgehill School.
Ready to learn more, there's always something exciting going on at King's-Edgehill School, it's in the air. You can hear music in the halls, smell healthy meals cooking, see original artwork and performances and feel the energy of students who love to learn. Experience it for yourself! Plan your visit here.