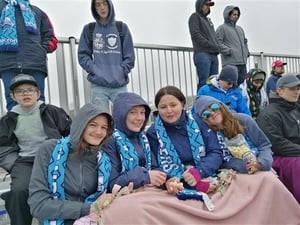 Almost 50 students were curious to see Halifax's first professional soccer team. After boarding the bus with cheerful spirits, we headed to "Wanderers Ground" in Halifax to see the first Canadian Premiere League game on Nova Scotian soil. This is the first year of the Canadian Premiere League and the Halifax Wanderers is one of the seven teams participating in this division. Thanks to the Clanachan family for donating 50 tickets and some Wanderers swag to our School so we could witness the home opener against "Forge FC" (Hamilton, Ontario).

With typical Maritime weather (4 degrees, rainy, windy), the students enjoyed a close soccer game at high level. The Halifax Wanderers fought hard, played well and won the game 2:1 with goals scored by Garcia #30 and Perea #80. Another great KES trip is in the books and this is hopefully the start of many victories for the HFX Wanderers.
What do King's-Edgehill School boarding students do on the weekend? Download the KES PhotoJournal, A Day in the Life of a Boarding Student, to find out.