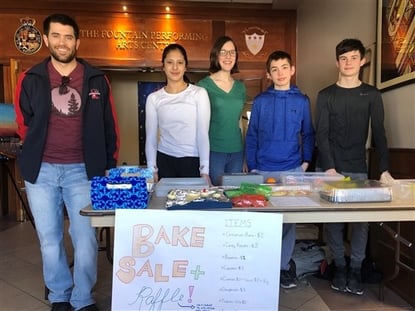 On very short notice, the Grade 9 Sciences Humaines class organized a fundraiser bake sale in support of the Barho family in Halifax who tragically lost all seven of their children in a house fire in February. Having fled the civil war in Syria, the Barhos arrived in Nova Scotia in 2017 as refugees to start anew in Canada.

Our Grade 9 students were determined to do something meaningful to help the surviving parents with their immediate and future costs associated with this tragedy. They quickly recruited volunteers among faculty, staff, and students to provide baked goods for what is rumoured to have been the most successful bake sale in all of KES history. With the support of the entire School, between the bake sale, generous donations, and dress-down-day contributions, we raised a total of just over 1,200$!!! All in one day!!

We thank everyone who participated in some capacity with this initiative. We are certainly proud of everyone's generosity and support. This money will go directly to the Barho family's cause on behalf of KES; from one family to another.
Community involvement is a huge part of your child's education at King's-Edgehill School. We know that getting out and helping others builds connection, confidence and empathy; plus it just makes our students happy. This Student Volunteer Download shows some of the ways KES students are making contributions to stronger communities.