On Saturday, April 1st, Mount Saint Vincent University hosted the annual Girls Get WISE (Women in Science and Engineering) Science Retreat. Approximately thirty girls from across the province from Grades Seven to Twelve attended the event. King's-Edgehill School was well represented by four of our finest ambassadors: Ella Brown (9), Grace Gallant (8), Athena Cox (7) and Georgia MacKinnon (7).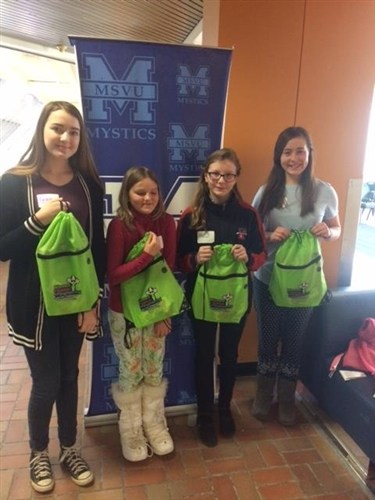 From 10:00 am until 3:30 pm, the girls were immersed in hands-on science activities and had the opportunity to meet and discuss careers with women working in the Science, Technology, Engineering and Math (STEM) fields. These women mentors described their rewarding careers as dieticians, game programmers, biologists, professors, engineers, oceanographers, and ship builders. Our girls were empowered by the many opportunities to become STEM professionals. They had the chance to ask questions about the unique professions, and the mentors offered useful advice about university courses which were of importance in their fields. It was a girls-only day of fun, friendship and learning.
The hands-on forensics station was popular and the girls enjoyed being the detectives using the microscopes to match DNA through the close observation of strands of hair. The egg bungee jumping station was also a lot of fun. Teams used the available props (balloons, knee-high stockings, for example) to support and protect the egg; they then tried their luck at sending it off the edge on a bungee dive, eager to see which eggs would survive. All stations also provided information on famous scientists and mathematicians, and the girls learned about the innovative female scientists and mathematicians who shaped history. Eastlink Television was also on-site and Grace was interviewed, sharing her impressions of the day. Needless to say, she offered rave reviews.
What a great way to spend a Saturday!
To learn more about what it means to be a KES student and the opportunities that are available on a daily basis, download the KES "A Day in the Life" PhotoJournal: