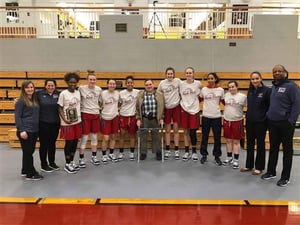 Our Prep team arrived at Kents Hill School, outside of Augusta, Maine, in the dead of night...okay, it was 6:00pm, but it was dark as midnight. The campus is incredible, 400 acres for 240 students from Grades 9 to 12 (and post grads)!
The first game on Friday night was very one sided in our favour, as the host team, Kents Hill, was without a few players who were away at a leadership conference, and the rest of the team struggled against our bigger and quicker KES players. Heavyn Beals scored 24 points to lead the team, and we welcomed
Aaliyah Arab-Smith
, back from her broken finger, into the lineup for her first game in a month. An excellent total effort after a long day of travel resulted in the win, and a good reason for a great rest that night at the hotel!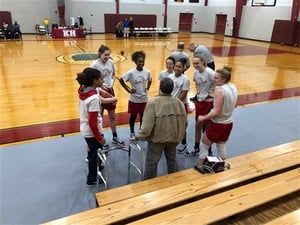 Saturday morning brought an interesting situation with our
AT Jennie
finding that we had an almost flat tire on one of the vans. It seems that some of the rocks on our trip were sharp and large enough to cause a slow leak overnight. So, while
Assistant Coaches Ms. Strickey and Ms. Coward
were with the van getting it fixed, our Prep team played its second game of the event vs. Gould Academy.
Mackenzie Smith
led the team scoring 16 of her 21 points in the second half, which contributed to a 66 - 23 win.
We spent the afternoon as residents of the school for the afternoon, studying and working on our academics as the girls were preparing for their exams which would be written shortly after returning home from the tournament. Kents Hill provided us with a great study space and made it easy for us to settle in for a few hours!


The championship game Saturday evening saw us play Hyde Academy. The Hyde team has a few quick guards and, overall, were another young and inexperienced team that eventually wilted under the skill and size of our KES girls. Halftime saw our team lead by 15 points, and once the girls "woke up" and the team raised its defensive intensity, KES went on to a 72 – 27 win, and the first tournament championship for our KES Girls' Prep Basketball Programme.
Aaliyah Arab-Smith
and
Mackenzie Smith
were recognized as co-most outstanding players at the tournament, and the whole team was praised as an entertaining and skilled team to watch.
The
Aleigh Mills Tournament
is in its 9th year at Kents Hill School. Aleigh was an aluma of KH, and played on their varsity basketball team for 4 years. Within a year after graduation from Kents Hill, Aleigh lost her life in a tragic domestic violence incident. This tournament is played in her memory, and we were very honored, not only to be invited, but to meet
Mr. Mills
, Aleigh's father, who comes to every game of the event, and is a big supporter of the Kents Hill girls' basketball programme. Our KES girls made sure to not only say thank you to Mr. Mills before the championship game, but to also include him in one of our championship pictures. A bit of life learning taking place off of the basketball court is what every scholastic coach hopes to provide to their young charges, and this was one that made our girls think a bit, and show the grace and class they carry with them. No matter what the score or result was, I can say as the Head Coach, and on behalf of the rest of our team staff, we were very proud of them.
Next up for the Girls' Prep Basketball team is a trip to Phoenix, Arizona on December 18th – 23rd, to compete in the Nike Tournament of Champions. This 106 team event, broken down into 7 brackets, is one of the top 3 major high school girls' events in the USA. For more than two decades, the Tournament of Champions has produced the most competitive and prestigious girls' basketball event in America. Publications from USA Today to ESPN have used the words like "staggering" and "unparalled" to describe the event. Sixteen of the last 18 US National Champions started their run to the title at the Nike ToC, and this event has had 172 State Champions come from its field since 1997. The alumnae of the event includes dozens of High School All Americans, 8 Olympians, and six #1 overall WNBA draft picks.


Our first game in Arizona is against Long Beach Poly, of California. LBP is a sports powerhouse in the Los Angeles area, and has an enrollment of 4700 students from Grades 9 – 12. As we prepare for this event, we know that our girls will be ready to compete in this high-intensity environment. Keep an eye on our KES Athletics webpages, as we will be posting stories each evening after play is done for the day. If you are in the area, come cheer us on!
Athletics is one of the four pillars of a King's-Edgehill education, which is why we offer three seasons of various sports and athletic programmes. Download our Athletics PhotoJournal to discover which of the over 20 different sports your child will love.