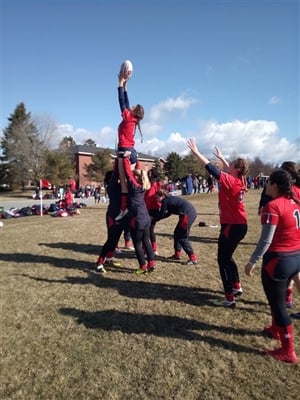 This past weekend, the Senior Girls Rugby team travelled to Rothesay Netherwood to compete in their annual Rugbyfest tournament and defend the title that we had won last year. After a bus ride filled with many laughs, some off-key songs, and some show-stopping dance moves, the girls arrived in Rothesay ready to get down to business.
In our first game of the tournament, the girls made it clear that they were ready for their competition. The girls cruised to a 49-15 victory over Kennebecasis Valley High with all 28 girls playing significant minutes. First year player,
Georgia Porter
was definitely the bright spot as she scored 3 trys and fellow Grade 12 player
Sarah Cooney
was named our player of the game for her hard running and tough defensive play.
The next day, our girls opened against a tough squad from North Hastings in Ontario, but again looked comfortable as they won 36-5 with Grade 12 center
Heather Stanton
scoring twice and winning player of the game. In our second game of the day on Saturday, the girls faced a very physical team and came out on the wrong side of a 7-5 score. Co-captain
Kenzie Cecchetto
was relentless all game long, scored our only try, and was named our player of the game.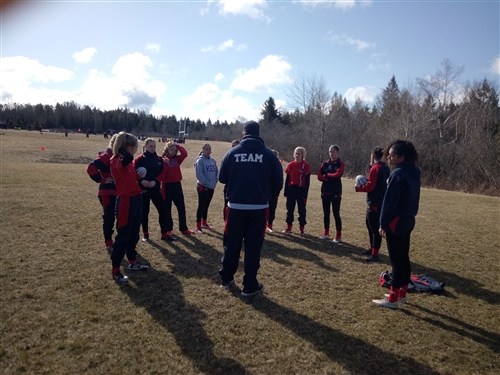 Although we weren't playing in the gold medal game, our girls were focused and ready as they faced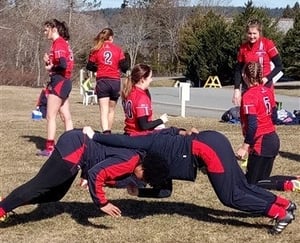 Lockview High School in the third place game. Although the game was back and forth, the girls kept their composure and finished the tournament with a 10-0 victory. Grade 9 student
Angela Funes
scored the game-winning try and was awarded the tiara as player of the game.
All in all the weekend was a very positive one with great experiences both on and off the pitch! The girls were very thankful for
Ms Kat Guhr
who travelled with the team for the weekend, as well as our driver
Cliff
who not only put up with our singing, but got us there and back safely.
J. Rory CampbellJunior English and Technology TeacherGirls' Rugby and Basketball Coach



We've launched a blog: Inside King's-Edgehill School! We'll be posting regularly about school, our students, our teams, and our approach to educating the whole child. Written by a blogging team of staff, teachers and parents, Inside King's-Edgehill School gives you an inside peek and the inside scoop. Read it now.