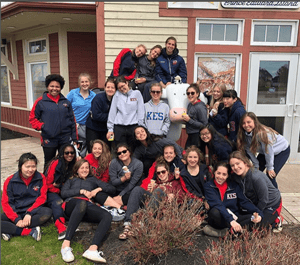 This past weekend our Senior Girls Rugby team loaded the bus and headed across the Confederation Bridge to take part in the annual David Voye Memorial Tournament hosted at Three Oakes Secondary High in Summerside, PEI. With our Junior students away with their class trips and our IB students busy with exams, we travelled with an abridged roster on the trip, but the girls who did come with us came with focus, ferocity, and lots smiles.
The girls opened the tournament with a convincing 29-12 victory over Hants East with
Amy Marchand-Dion and Camryn Kleynhans
both scoring two trys a piece. The girls opened the second day of the tournament against a very tough and scrappy team from Charlottetown and, although we jumped out with a 14-0 lead, we were unable to hold on and lost on the last play of the game 21-14. In true KES fashion, however, the girls quickly refocused and played their best game of the tournament against Northumberland Regional High winning 32-10. On the way home, we made the obligatory stop at Cow's Ice Cream for a special treat.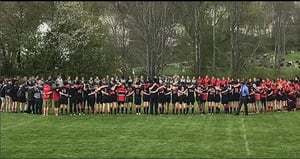 While the tournament was a very positive one for our girls, I would be amiss if I didn't reference the terrible tragedy that occurred when a Grade 12 player,
Brodie McCarthy
, from Montague High passed away after suffering an injury in his game on Friday. During the girls' most recent game against cross-town rival Avon View, both teams wore black armbands in solidarity and respect to Brodie. After the game, both teams and our respective boys' teams gathered at the center of Herman Field and held a moment of silence and remembrance for the life of Brodie. Brodie's family has set up a memorial scholarship in his name to which our teams will be donating.
King's-Edgehill School is passionate about sports and fitness. Just a few choices include soccer, basketball, volleyball, swimming, equestrian, rugby, skiing, dance, yoga and much, much more. Download our Athletics PhotoJournal to find out more.