On Wednesday morning, Marshall House became the Parliament Buildings for our Social Studies 7A class! The class held a mock parliamentary committee meeting as they are currently working through a unit on political empowerment. Following proper governmental procedures, students conducted a simulated meeting that was called by
Jose Maria Tapia Sanchez
, the "Minister of Food".
We had several "Members of Parliament" present from across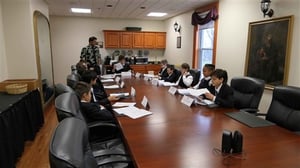 the Nation. We also had a few witnesses from topical committees. The bill in question was "an act to regulate the serving of vegetables at dinner in Canadian households in the interests of family peace and harmony." As you may have guessed, the vote was held at the end of the meeting and passed 7-1. Be careful next time you serve parsnips to your children!
Why choose King's-Edgehill School for your child? At King's-Edgehill School we help students be more than even they thought possible. Learn more in our Questions to Ask eBook.