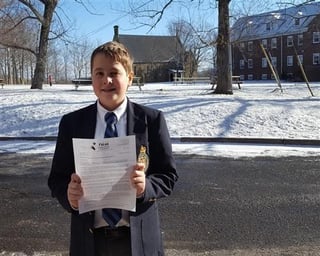 Sean Hurley
, a Grade 7 Honours student from Texas, has a passion for technology, reading and writing. He is a perennial Honours student whose creativity is complemented by a dedication to excellence in all that he does. This week, Sean received a letter and certificate indicating that he was a finalist in the Polar Expressions Canadian Short Story Competition that he had entered in November of 2017. You may recall in a previous newsletter story that one of Sean's classmates,
Athena Cox
, received word that she was also a finalist in this competition. This is terrific news for our Grade 7 class, and we applaud their interest and success in creative writing. For Sean it means that, aside from his work being judged as one of the best out of the thousands of student entries across the Country, he also will be published! His work entitled
Enter Player One
along with his biography will be part of a Canadian publication of the top-selected entries in the collection titled
Pursuit
, soon to be available among the other books in our Convocation Hall library. Sean's short story, along with Athena's, are being assessed in the final round of judging where monetary prizes will be awarded. We wish them both the best of luck. Enjoy this short introduction from Sean's winning entry:
"Hello. The name's Rip and, yes, that's my name. I'm the great, great grandson of Rip Van Winkle. You know, the man who falls asleep and Wakes up in the future? Anyway, that doesn't matter. I'm nothing like him. I'm your average fourteen-year-old boy who likes video games a little too much for one's health. . ."

Congratulations, Sean!
There's more fun, fields and friends waiting for you here at KES! Find out more about a typical day in our downloadable photojournal, A Day in the Life of a King's-Edgehill School Day Student.