The arts make up one of the essential four pillars of a King's-Edgehill School education. Some aspects such as Drama, Music and Visual Art, are part of the regular academic curriculum and are available as IB courses as well.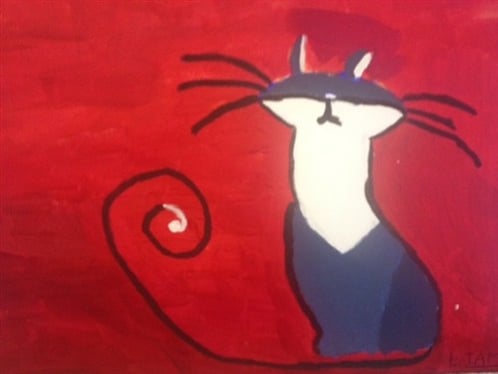 Grade 8 and 9 Painting Projects
The Grade 8 and 9 Art classes have just finished their painting projects. They had the chance to experiment with acrylic paint on stretched canvas. The Grade 8 Art Class looked at the artist, Georgia O'Keeffe, and focused on design. The Grade 9 Art Class looked at the Impressionist period and their direction in this project was to investigate colour and the use of brush strokes. A few of the paintings are on display in front of the theatre.
Musical Set Painting - Welcome to New York City!
We also finally finished the set painting for the Senior School musical (42ND Street)! This very large canvas was painted on the stage floor because of the size. The scene represents New York City at night in the theatre district with the Chrysler building in the background. Last Tuesday, the finished canvas was hung in place and is now ready for our big musical production. Congratulations! Come out and enjoy the show this weekend!