The days are long, but the years are short and before you know it – your child is not only in grade 9, but they are graduating to the senior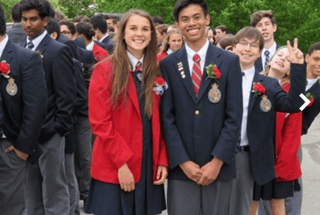 school. Once again it's the time of year when King's-Edgehill School celebrates the Junior School and organizes a special graduation banquet for the Grade 9 students.
The King's-Edgehill School is made up of a Junior School (grades 6 to 9) and a Senior School (grades 10 to 12). Completing Grade 9 marks the end of an era. It is during these years that many KES students form strong friendships and begin to recognize the wonderful educational opportunities that lay ahead of them in Senior School.
With parents there to celebrate with their children and students, the Celebration begins with a reception for parents and staff at the Headmaster's House. This is a wonderful opportunity for parents to speak with the Junior School staff as well as mix and mingle with other King's-Edgehill parents. While their parents socialize the Grade 9 students have a group graduation photo taken in Convocation Hall – a yearly tradition!
The remainder of the evening is filled with speeches, slide shows and each graduate is presented with a commemorative Junior School pin.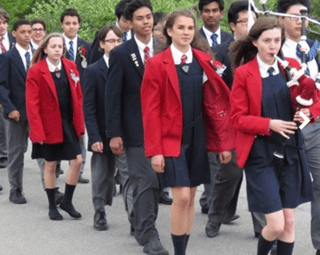 In addition to these traditions, each year special ceremonies take place celebrating the accomplishments of the graduating class. In 2015, Mayor Beazley was on hand to present fifteen of the Grade 9 students the Duke of Edinburgh Award.
Many of the graduating students play a special role throughout the evening. Last year Andrew Canete said a special grace to begin the banquet, and Meredith Chambers gave a wonderful valedictory speech reflecting her personal journey at KES and highlighting the great opportunities she and her classmates have experienced. The valedictory speech is a highlight of the evening, not only for students, but also for staff and parents, as they celebrate the unique accomplishments of every student in the graduating class.
The Grade 9 Graduation Banquet is an opportunity for Grade 9 students and their teachers to reminisce about their Junior School days. They events of the evening also serve as a reminder of King's-Edgehill's commitment to the four pillars of education: Academics, Athletics, the Arts, and Leadership. We are proud of how far our Junior Students have come and look forward to seeing them grow throughout their Senior School years.
For more insight on what a typical day looks like for a student of King's-Edgehill School, and why out students pride themselves on being a graduate of the KES Junior School, download the KES eBook, A Day in the Life of a Day Student.