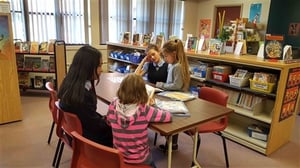 At a time when schools are looking for ways to teach empathy to students, it is reassuring to know that we are ahead of the curve. Volunteering has been an integral part of our Junior School programme for years. Each Monday afternoon, dozens of students (too many to mention) head off to the local hospital and seniors' homes to share their time and talents with others. Whether assisting with meals or sharing conversation with the elderly and the infirm, the students make a positive difference for others. Monday lunch times are popular too as students grab a bagged lunch and head to Windsor Elementary School where they spend their free time teaching young students to read. The elementary "reading buddies" arrive with their chosen book in hand and are excited to meet our Grade 9 students who are eager to read to the young children and to help them learn to read. It is a wonderful partnership between the local elementary school and King's-Edgehill School, and all students return to their respective classes with smiles on their faces, recharged by this quality time spent together. Special thanks are extended to our first two teams of Reading Buddy volunteers:
William Ahern, Taylor Cole, Gala Holm, Megan Mattie, Emily Norton, Sarah Sidorchuk; Hannah Bryant, Carolina Herrera, Kayla Jarvis, Doga Mercan, Cameron Stephens and Gabby Strickey
. There are many service opportunities available in the Junior School and it is clear that the benefit is as great for our students as it is for those they are helping in the community.