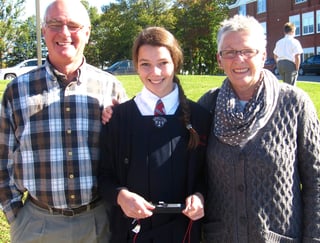 King's-Edgehill School believes in the importance of staying connected with the people who matter most in a student's life – their parents, siblings and of course, their grandparents. Children learn first from the adults they are closest to and who support them the most. This is a guiding principle that KES takes to heart when planning its yearly extracurricular events. It is also why every year we host a Grandparent's Day that provides students the chance to proudly show the most senior members of their family around their school.
On Thursday, October 6th, KES will once again open their doors to grandparents. The event is the perfect transition into the first holiday of the year – Thanksgiving.
Autumn is also a great time of year to see the campus foliage at its most colourful and student's have settled into their routines just enough that they are excited to show off what they have learned so far.
Throughout this special day grandchildren will show their grandparents around the School. They will tour the campus and classrooms, introduce them to friends, faculty and teachers, have lunch, and take in some musical performances and science demonstrations.
The musical performances will be from our Senior School musical production as well as our Concert Band. It is always so nice to see the grandparents enjoying the music and beaming with pride as they watch their grandchildren take to the stage.
The day is sure to strengthen the bond between grandparents and grandchildren and reinforce to students that they are supported in their academic endeavors. Meaningful family involvement, such as family-oriented special days, is beneficial and encouraged at KES.
Grandparents Day starts at 11 a.m. on Thursday, October 6th in the Fountain Performing Arts Centre. It's a memorable and special way to celebrate the talents of all KES students. It's common for many grandparents to take their grandchildren home with them following Grandparents Day since Thanksgiving Break begins at the end of the day.
We look forward to meeting all of the grandparents who have helped shape the remarkable group of young people we proudly call KES students. See you October 6th – it will be here before you know it!

Want a sneak peek at life at KES? Click here and watch these short videos.