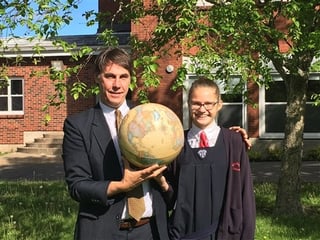 Grade 9 student
Olivia Drava
won the Junior School Great Canadian Geography Challenge for the second straight year.
Brisnel
Etou
also made it to the final round; however, Olivia emerged as the winner with a wide variety of knowledge that translated into correct answers in all rounds. She loves to travel and retains details with ease. Olivia is our first two-time winner; however, with her moving to the Senior School the field is open for next year.
Liam Connor
and
Matvey Semenenko
progressed well and are returning to the Junior School.
Kevin LakesJunior Rugby CoachJunior School Athletics Director


Since 1788, King's Edgehill has upheld a tradition of excellence and achievement. We are a home away from home for some of our students, and an extended family for all of our students. Plan your visit and find out what makes King's-Edgehill the best school for your child.