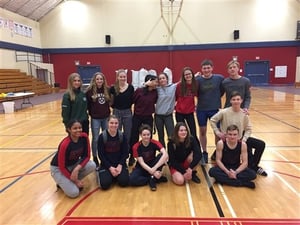 On Saturday, January 19th, King's-Edgehill hosted 25 schools and 150 wrestlers from three provinces at our 23rd Annual Invitational Wrestling Tournament. Our student-athletes put on an exemplary performance, winning three first-place individual finishes.
Our Senior girls, comprised of
Captain Téa Racozzi, Camryn Kleynhans, Anna Emery, Raya Rhein,
and
Aimee Cooper
came second place by only one point, despite three of our girls having never wrestled before.
Téa
was especially dominant. She combined technical skill, a willingness to try new moves, and an intelligent approach to her matches in order to pin all of her opponents in only about four minutes worth of wrestling.
Raya Rhein
was our rookie of the day. She lost both of her matches against a seasoned opponent, but they were very hard fought and
Raya
showed considerable promise. Our Juniors,
Quinn Emery and Bella Turner-Galaise
, also showed tremendous skill and talent throughout the day, winning GOLD medals with excellent performances.
Our Senior boys were considerably outnumbered by much bigger teams but, despite this and having two out of three wrestlers brand new to the sport, they came in 5th place out of 27 teams!

All of our wrestlers, as individuals and as teams, have huge potential as we enter the midway point of our season. Our coaches and student-athletes would like to extend special thanks to all of those volunteers who spent so much of their time – some were with us all day – to help officiate and clean up afterwards. The tournament would not have gone as well without them.
Why choose King's-Edgehill School for your child? At King's-Edgehill School we help students be more than even they thought possible. Learn more in our Questions to Ask eBook.