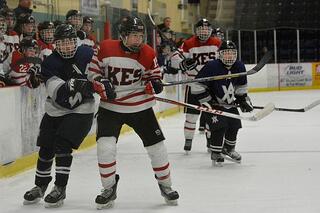 King's-Edgehill School knows that hockey plays a big role in the lives of many North American families. It's a sport that promotes leadership, team building as well as assists in forming lifelong friendships. That's why our Hockey Program has been developed to keep boys and girls, from beginner to elite, busy playing and competing here, across Canada and internationally.
Boys'and Girls' Prep teams often travel for competition. Games and tournaments are held throughout Canada and the Eastern United States. Every two years, teams travel to European countries – such as Iceland and Germany in the past – for international play and cultural education.
Led by our Grade 12 boys, the KES hockey team made a strong statement at a weekend tournament in February 2017 at the PSHF tournament in Halifax, showing the league that KES is up to any challenge and that we are gearing up for the championships in Rockland, Ontario from March 3-5.


"Our team played well all weekend winning 2 games and losing a couple close ones. In every game we had a solid effort from all players and had opportunities to have success." We had great leadership by all of the Grade 12 players;
Jacob Evans (goalie) with 2 wins, Connor Redden, Cameron Tobin, Connor Snarr, Emile Gelinas, Laurence Olivier-Belley, Braden McLaughlin, Gabriel Bibby, Kenny Osmond
and
Luke Macinnis.


For highlights of the weekend tournament, please
click here
. To watch Grade 11 Bryce Tracey's interview,
click here
.
Jeff MacLeodDirector of Hockey Operations &Associate Director of Admissions


Our Prep Hockey Programme provides your child with abundant opportunities to exercise, cooperate, practice, compete, travel, lead, achieve and grow. Download the KES Hockey Handbook to learn more.