Dear KES Family: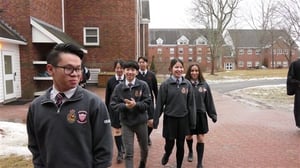 A week does not go by when I don't miss teaching in the classroom. Few things in life are better. Jeff Smith often says that he has the best gig going, and there is no doubt that teaching music at KES has brought him and his students decades of joy. I suspect that you would also see the exact same zest in Mrs. Shields' Math class or in Mr. DeCoste's Physics lessons. Teaching is, and should be, thoroughly enjoyable and rewarding. Happiness is not subject specific.

However, being an English teacher, I enjoyed a unique relationship with my students and with the literature we studied. Sometimes I miss the books as much as the students themselves. What could be better than spending a day with Prince Hamlet or Jane Eyre or Ozymandias?

Years ago (I actually think it was 28!) I taught a Canadian novel entitled Crabbe. Written by William Bell, it is the story of an angry teenager who eventually figures things out after he runs away into the wilderness. Far from civilization he meets a woman Mary who possesses a rough kind of wisdom. Crabbe is a whiner and has excuses for everything. She says to him, "You know what I think Crabbe? I think a person reaches maturity when he strikes the last name off the blame list."

There are nuggets of wisdom in books and this is a good one. Growing up we have our rites of passage, rituals and ceremonies, but there is something about getting rid of one's blame list that has always struck a chord for me as the best measure of adulthood. Being responsible and accountable for one's life is not a function of chronological age or physical maturity. Unfortunately, we see examples all the time in the news of "adults" casting blame and accepting none. Literature is also rich with examples of maturity coming too late, often with tragic consequences. Hamlet is thirty before he stops his whining and starts acting with any real maturity. Juliet is not yet fourteen when she seems to suddenly grow up and take responsibility for her life and the predicament she is in.

Blaming others always seems rather hollow. Like cotton candy, excuses are never satisfying – either to the one making the excuse or the one hearing it. Mary also says to Crabbe, "Waiting around for someone to change your life is a loser's game." It is bluntly expressed but perfectly clear. Crabbe needed to hear this. From time to time I think we all do.

Sincerely,
Joe Seagram