Dear KES Family: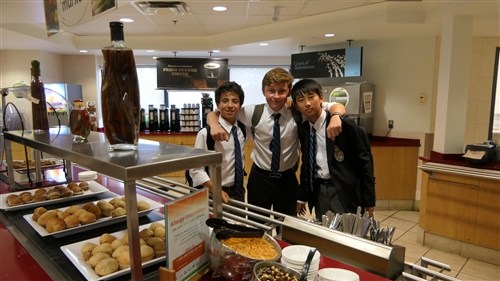 The story goes like this: "Gordo" (Gordon McKenzie) has been working as a custodian at King's-Edgehill School for twenty-five years. There is not much he has not seen or done in his time here. He is universally loved, and legions of alumni will describe their hours of restorative service with him as some of their fondest memories of their time at KES (even if they were in trouble and removing gum from the bottom of desks as a consequence).

After all these years, Gordo exclaimed that he had a "first time" this week. Yup. He had just finished cleaning a classroom at the end of the school day when one of our young students, in his first days at KES, said hello and thanked him for cleaning his classroom. This was the first time a student had thanked Gordo for the cleaning he does every day.
The start of every school year is full of great promise and hope. Perhaps more than ever there is more to celebrate and expect from this year. After all, we have the second highest enrollment in the School's 230 year history. We have three new facilities to enjoy and celebrate (the new Turf Field and Track of Payne, the new Fountain Performing Arts Studio, and the installation of our dressing rooms and fitness area in the new Newport District Rink). To top it off we have some exciting new programmes such as the Girls' Prep Basketball Team and the introduction of dance as a full-time sport. Auditions start today for the world's first high school production of Mamma Mia!, and the Club Fair today has more activities and clubs (from Robotics to Debating) than ever. Thanks to the Fountain family, we have been able to acquire the best professional recording equipment and software for our inspired musical artists. Opportunities abound!

There is a very happy and excited energy on campus right now. If Gordo's story is an early indication of the year ahead, the 2018/19 academic year is going to be the best yet.

VERY IMPORTANT: Parents and students please note that there are digital forms requiring completion on your MY KES account. It is very important that these forms be reviewed, completed and signed in a timely manner. They involve transportation permission for all students, driving permission for day students and our technology and internet acceptable use policy. If driving permissions are not in place, students may not be able to leave campus and, if the technology and internet acceptable use policy is not signed, students may lose access to the internet and their MY KES account. The deadline for completion of all forms is Friday, September 14, 2018.

Sincerely,
Joe Seagram